Technical Specifications
Height of cut
2105mm Horz. 2150mm Vert.
The D range contains the most economical versions
---
With the same heavy robust frame and despite a fully complete equipment, this model is offered to a very attractive price. In the basic version this machine has a powerful 4 Kw (s6) motor, extra depth of the saw blade, 2 entry rollers and a repeat stop for strip cutting.
Features
Adjustable cutting depth – By means of a simple handle, the saw unit can be adjusted for cutting grooves.
Compact robust frame with less depth – The D range has a steep construction which means that it has a smaller footprint and takes even less space.
Cutting depth 60mm – The Elcon-D has the capacity to cut material to a maximum depth of 60mm.
Double cut scoring – Double cut scoring with the main sawblade. This easy to adjust feature makes it possible to set the scoring depth of the main blade on the first cutting direction and then in the reverse cut go through the material. This results in an exact edge without chipping of the top surface.
Emergency stop – Like on every Elcon machine, also the D model is standard equipped with an emergency stop.
End stop on mid fence – End stop on mid fence is especially usefull for extra support when cutting horizontally.
Extra depth of the saw blade at back side – The D range has the possibility for a 25mm depth of the saw blade at the back of the panel, for an increased quality of cut.
Precision within DIN 875/1 (0.1mm) – Contact free aligned hardened steelbar guidance for horizontal travel, from precision template.
Repeat-stop for strip cutting Repeat stop facility with track-bearing, running on the top cut section of the panel
Standard equipped with a 4kW motor (s6) – The D range is from standard equipped with a powerfull 4kW motor.
Optionals
Manually moveable back support grid
Transportrollers, operated by foot pedal
Entry and Exit Rollers for Handling
Left and right-side entry and exit rollers for easy panel handling.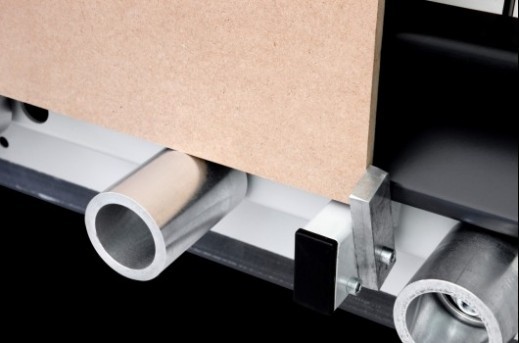 End Stop
On the bottom support level and on the level of the mid-fence, an end-stop is available for holding the panel when cutting horizontally.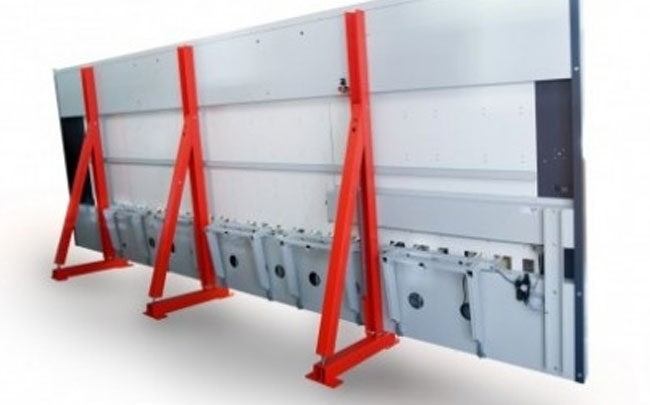 No Special Floor Needed
Completely self-rigid and free standing construction of basic framework