Technical Specifications
MACHINE TYPE
Edge Banners
VOLTAGE / PHASE
415V / 3ph
EXTENSIBLE SUPPORT WIDTH
565mm
PRE-MILLING MOTOR
1.1Kw – 12,000 RPM
UP/DOWN TRIMMING MOTOR
12,000 RPM
CORNER ROUNDING MINI. PANEL LENGTH (HEIGHT 30~60MM)
250mm
UPPER/LOWER BUFFING (EACH)
0.12Kw x2
WORKING TABLE HEIGHT
960mm
EXTENSION CONNECTOR DIA.
5″ (125mm)
FRONT/REAR TRIM MOTOR
12,000 RPM
CORNER ROUNDING MOTOR
12,000 RPM
OVERALL SIZE
4450 x 1160 x 1520 mm 1040/1250 KG
UPPER/LOWER TRIM MOTOR
0.37Kw x2
MIN PANEL LENGTH (CORNER ROUNDING)
220mm
OAV MAX570P EdgeBander
---
The MAX 570P is equipped with user friendly touch screen control. The PLC parameter setting & operating controls ensure reliable and stable working conditions to provide consistent & high quality results. This is the ultimate edgeBanding solution to optimise your investment and take your production output to the next level.
OAV is one of the world's leading manufacturers of woodworking machinery and equipment. Their products are sold around the world into 65 different countries, they are a very reputable and trusted brand within the industry. From panel production to EdgeBanding, the intelligent touch screen optimises the accuracy and strictly controls every step of the production, so that the quality can reach the maximum guarantee.
OAV MAX570P
---
Gluing Unit
Pre-milling Unit
Pre-heating Unit
Dust Collection Box
End Trim Unit
Solid Wood Lipping
Corner Rounding Unit
Top & Bottom Trimming Unit
Radius Scraping Unit
Buffing Unit
Nesting Package
Tape Feeding Device & Strip Feed
Pressure Zone
Guillotine Shears
Visit our YouTube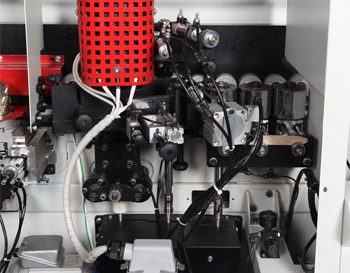 Gluing Unit
---
1.5 kg capacity Teflon coated glue pot is suitable for both PUR and EVA glue. The precise glue quantity control allows for an optimal glue amount to be applied to the edge of the panel. Equipped with a quick change system for cleaning or multiple glue pots (on request). The automatic cleaning cycle cleans the glue spreader roll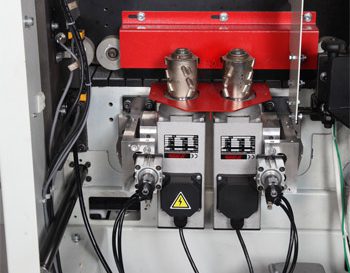 Pre-milling Unit
---
The pre-milling station come with two 1.1Kw high frequency motors with counter rotating 60mm diameter diamond cutterheads which ensure perfect trimming of up to 60mm thick panels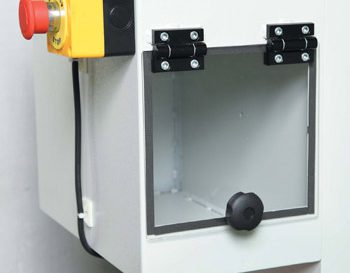 Dust Collecting Box
---
Collects the trimming from the scraping unit in a separate storage comportment so they are not collected in to the dust collector where they could impede the impeller fan
End Trim Unit
---
Precision dual motor high frequency end cutting units travel on precision linear guides for flush end trimming of the panel. Motors can be set to straight or chamfer 15° automatically from the control panel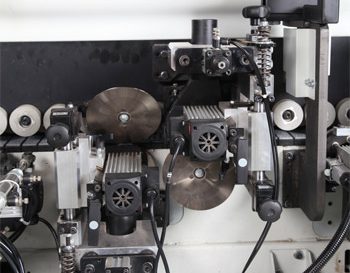 Solid Wood Liping
---
We need a photo for this feature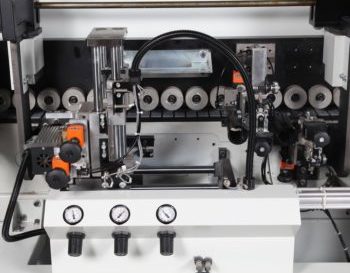 Corner Rounding Unit
---
The innovative design of this unit allows you to get a precision end rounding on your panel every time without cutter marks. Optimum corner rounding without adjustment or set-up, resulting from the combination of a diamond tool and tracer roller. Capable of corner rounding workpieces up to 60mm in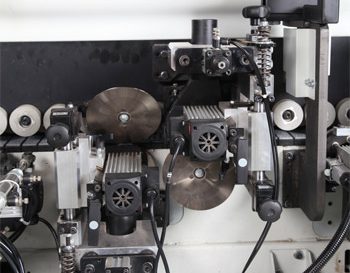 Top & Bottom Trimming Unit
---
The innovative design of this unit allows for precise results regardless of the type of edge and panel you are using. The two high frequency motors can be tilted for bevel 15° or straight cutting. The multi-functional cutters can be set up for flush trimming, bevel trimming, or radius trimming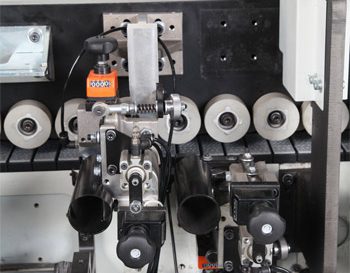 Radius Scraping Unit
---
This unit with its user-friendly design is able to eliminate any knife marks left on the edge after profiling on the top & bottom trimmers. It can be easily excluded when processing edges not requiring the radius scraper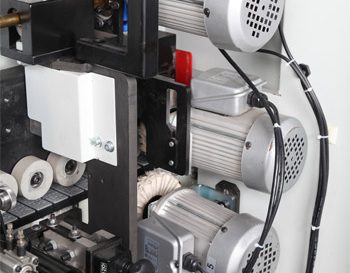 Buffing Unit
---
Two Independent buffing wheels for cleaning & polishing can be adjusted to a particular angle to maximize its effect for better workpiece finishing & extending buffing wheel service life. The buffing units are designed to polish edges and maintain their natural colours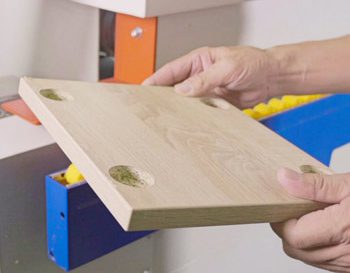 Nesting Package
---
Nesting package includes a multi-roller tracing device for the top trimming and scraping unit to compensate for hinge holes
Browse OAV EdgeBanders
---
We have been working with OAV for over 5 years. We're extremely impressed by the build quality of their woodworking machinery. We stock OAV Edgebanders and Bandsaws. Our OAV Edgebander range consists of:
OAV 330 Hot Melt Edgebander
OAV 350M Pre Milling EdgeBander
OAV 350A Pre Milling EdgeBander
OAV 370M Corner Rounding EdgeBander
OAV 370P Automatic EdgeBander
OAV 370P Automatic Corner Rounding EdgeBander
OAV 570P EdgeBander
Browse OAV EdgeBanders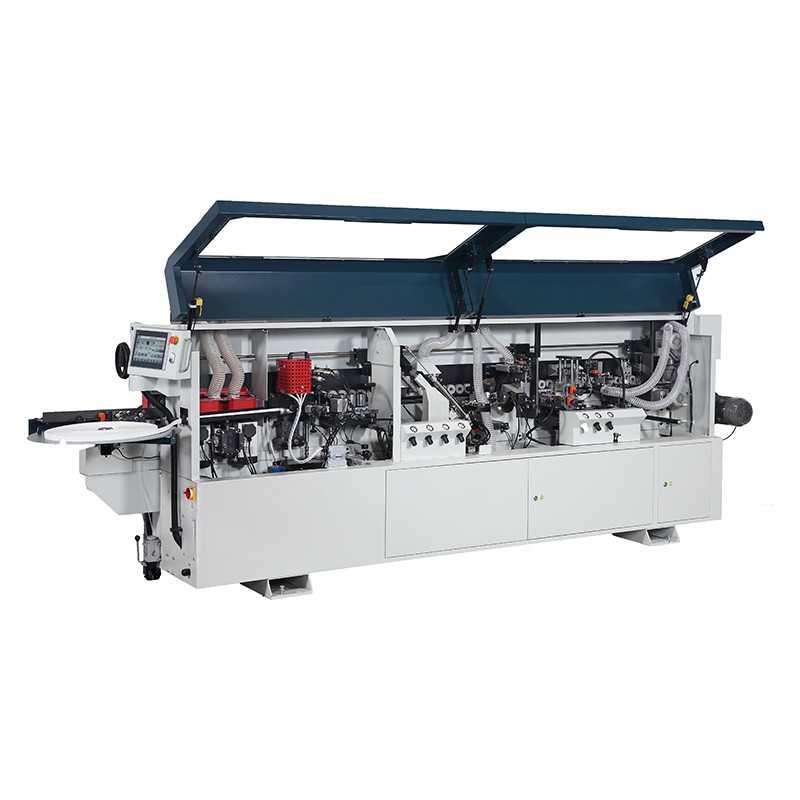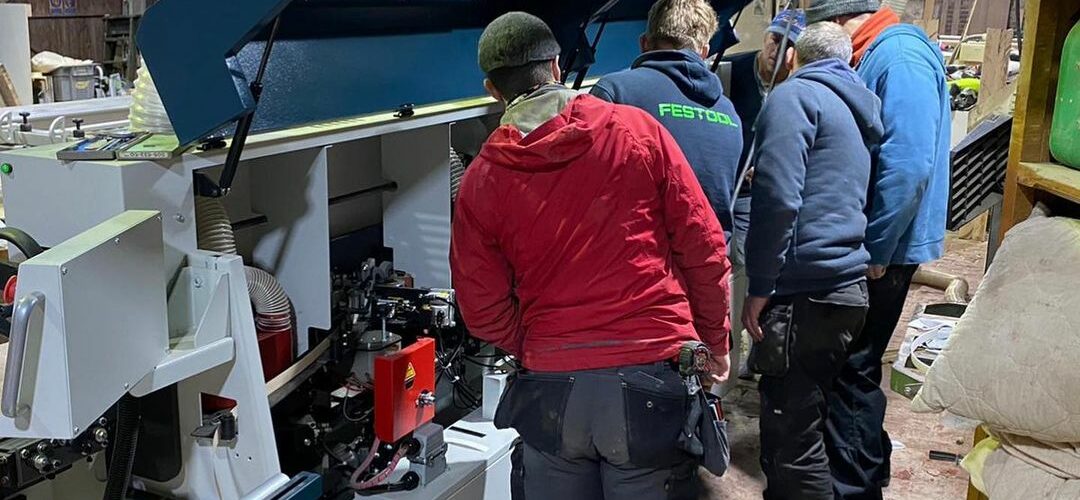 Delivery, Commission and Product familiarisation provided
---
As long as you have a forklift to unload the machine we can deliver and commission your Edgebander on the same day. On top of delivery and commission our engineers will train you and your staff to use the machines.
Book a Demo
Need assistance or Expert Advice?
We pride ourselves in offering a friendly and professional service