Need assistance or expert advice?
We pride ourselves in offering a friendly and professional service. Give us a call or send an email.

We are a premier supplier
Having worked directly with our manufacturers for many years we are able to deal

Over 40 years of experience
Trading for over 40 years, our staff pride themselves on offering customers a professional and personal service every time.

Expert knowledge and advice
Our expert staff are always on hand to answer any of your questions and to provide specific information for your exact requirments.
More reasons to choose MWM
We provide a range of industry-leading brands
Markfield Woodworking Machinery Ltd stock a wide selection of products and have on display woodworking machinery from some of the Worlds most popular woodworking machinery brands, including Martin, Robland, OAV, Salvamac and Kundig
Wayne Draper

"

Cannot recommend this company enough! Over the past 3 years we have spent over £75,000 on their top quality machinery and servicing. I can honestly say Gavin and the team provide a second to none service from start to finish. Long may our working relationship continue!!

"
Scott Hawkings

"

I can't recommend MWM, or their staff highly enough. When I had an issue I contacted MWM and they had the new part sent to them very quickly, and had me up and running in no time at all. I wouldn't even hesitate to use MWM for any future machinery purchases or service work.

"
Trusted and independent
New & used woodworking machinery stockist
Markfield Woodworking Machinery Ltd is an independent stockist providing expert, honest and unbiased advice for over 40 years.
Having long-established relationships with some of the world's leading suppliers puts us in a position to offer your business the right piece of equipment to fit your needs.
We strongly believe in letting you see and feel the machines we offer, enabling you to make an informed judgement before investing. So, we have built a large on-site showroom which showcases over 60 new working machines.
Our team of experienced operators is not only passionate about the machines we stock, but expertly trained to provide bespoke and fully interactive live demonstrations for visitors. We have learned that clients love to get a proper feel of a machine to fully appreciate its quality, build and performance when making big decisions about the future of their business.
Our own stockist-trained engineers work onsite and know our machinery inside out. And having a fully-stocked showroom and warehouse ensures any orders can be dispatched, commissioned and calibrated onsite quicker than many other suppliers.
Why family values count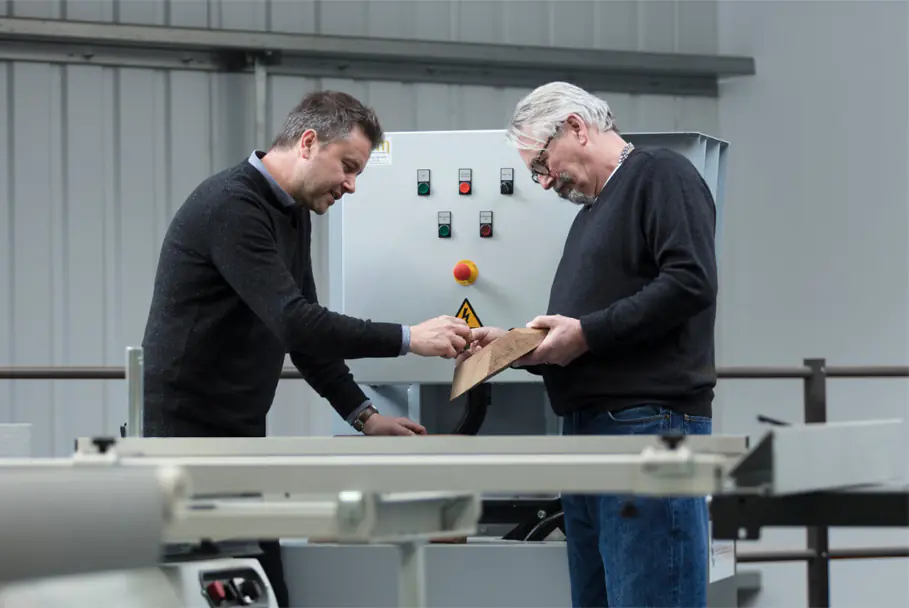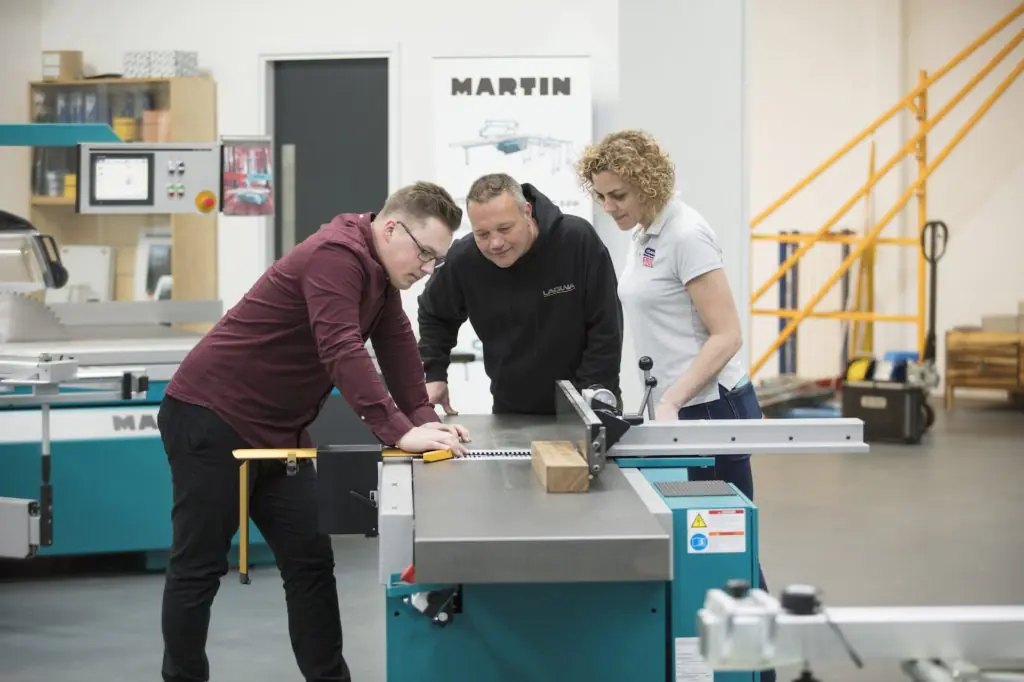 The Woodworking Machinery Experts
Passionate about exceeding customer's expectations.
As a business, we demand high standards from both ourselves and our machines, so our stock comes from some of the world's leading manufacturers. The precision quality of German-made Martin sits alongside Robland and Kundig builds. There are OAV Edgebanders and Sedgwick machines and Salvamac up cut saws, Compacto briquette presses and shredders, plus much more.
We pride ourselves on a friendly and approachable service that continues beyond the showroom and into efficient and exemplary aftercare. Our clients receive machine familiarisation on delivery and software training on all computer-operated products.
Beyond that, any further help or advice is always just a phone call away for customers who rely on our friendly approach, professional knowledge and honest advice.
Meet our team
Woodworking Equipment
Worldwide delivery and installation
Choosing MWM as your woodworking machinery supplier will give you a complete service. The family values we hold dear as company means we are always striving for true customer satisfaction, not simply sales figures. Building long-term client relationships is one of our core company objectives and we are delighted to see customers return time and time again.
We are rightly proud of the service we offer and believe that over 40 years of success in the industry is proof that we must be doing something right.
Based in the heart of the country in rural Leicestershire, MWM is just a five-minute drive from the M1 Motorway, which makes it easily accessible from across the UK.
As well as satisfying customers in the UK, we also export woodworking machinery all over the world and specialise in shipping to the likes of: Kenya, Uganda, Mozambique, Nigeria, Cameroon and Ghana.
Our Showroom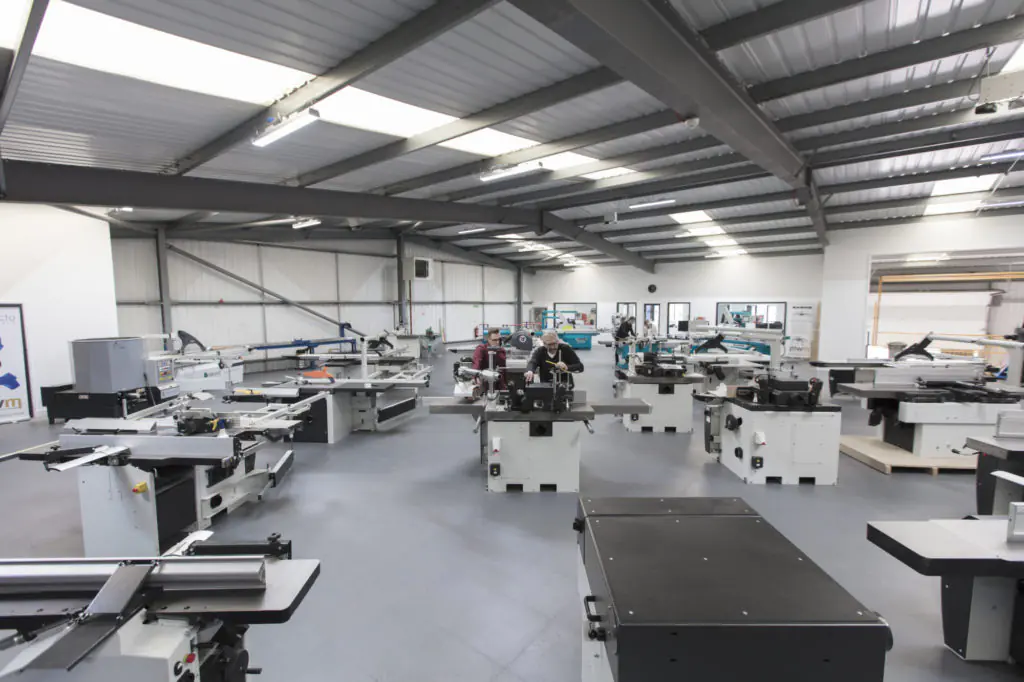 Our Showroom
When you visit our showroom, you can experience a fully interactive demonstration by one of our trained staff.
Our Showroom
Meet Our Team
Our staff pride themselves on offering customers a professional and personal service every time.
Our Team
Machines Wanted
MWM can offer you a fast valuation whether you are part exchanging or you have a machine surplus to requirements.
Sell or Part Exchange
Yes you can, we would always prefer to deliver for you as we can't be responsible for any damage caused by transportation other than our own.
We don't provide finance directly however, we have been working with Machinery Finance for a number of years and we can put you in touch, to find the best finance package for you.
We recommend only a certified electrician connect the machines.
This will depend on the size of the machine, however, to keep our delivery costs as competitive as possible, the ability to unload with a forklift will certainly help.
We have a state-of-the-art showroom where most machines are available to view. We can also demonstrate the machines. We do ask that an appointment is made in advance to ensure we are available.
We offer a commissioning service and can quote for this at the time of enquiry. We have experienced service engineers that can build, set up and familiarise you and your team with your purchase
We offer a variety of servicing options. We will be happy to quote on an individual basis.
Yes, we do. Our customer often upgrade machines they have bought from us in the past, so we will always look to offer a competitive price on your machinery in exchange for new.
We are not certified electrical installers, so None of our machines are supplied with electrical cable, this is something that your electrician should supply.
To keep our prices as competitive as we do, machines are not supplied with blades/tooling. Our customers have varied requirements and we can supply blades/tooling to meet the customer's needs.
We are not certified electrical installers however, we can supply the power of the machine details for your electrician to identify.
We offer a 12 months manufacturers warranty on all new machines, With ongoing service offered after 12months (quotes available on request).