In order to expand their range of applications by brushed and textured surfaces, more and more of our customers choose to add brush rollers to complement their brush sanders or even look for dedicated brushing machines. In serial production, brushing lines are already very common. Kundig builds such brush sanders but also provides solutions that add to the versatility of their wide belt sanders.

As precise as a wide belt sander
In the last years, precision requirements in textured wood surfaces have risen considerably. For example, parquet is rarely finished on site after installation, instead it needs to have tolerances of just tenths of millimetres from the factory in order to avoid height offset. Adjustment options comparable to a Kundig wide belt sander facilitate these steep requirements.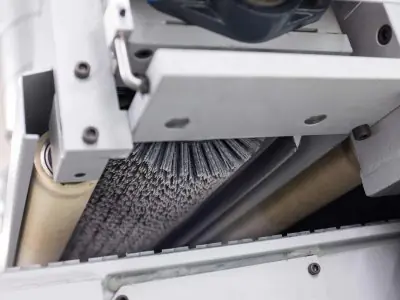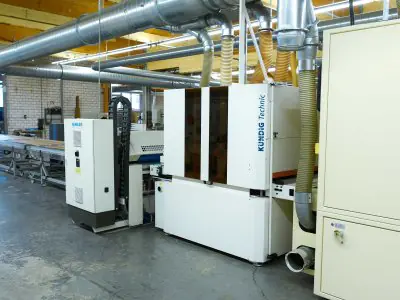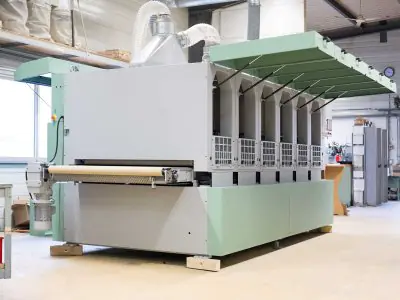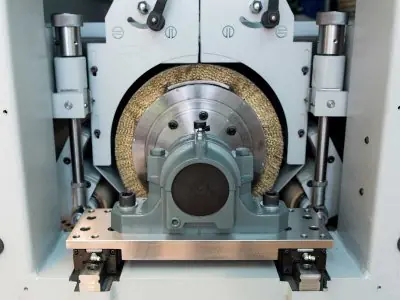 Units
---
Add-on Brush Unit
The add-on texturing brush unit is an upgrade to our wide belt brush sanders and a well proven solution for joinery and carpentry workshops that want to add textured wood surfaces to their range of products.

Integrated Brush Unit
Integrated brush units supplement Kundig's wide belt sanders and are located in the machine body. These brushes are mostly used by companies that do a lot of wood texturing and represent an uncompromising combination of sanding and brushing machines. They are available with or without oscillation as well as in different diameters and materials

Designated Brush Sanders
Kundig also build dedicated brushing solutions mostly for industrial purposes and often found in parquet production. These wood texturing machines are extremely heavy duty and customisable.

Disk Brush Unit – The solution for cross grain sanding
Sanding of cross grain sections are a very well known challenge known by almost anyone who processes wood. With their disk brush unit, which is available as part of Kundigs range of wide belt sanders, the swiss company found a reliable solution for cross grain sanding that perfectly eliminates scratches on cross grain areas of wooden workpieces such as kitchen doors. This is best achieved in combination with their patented oblique sanding technology.

Another application of the disk brush unit, thanks to its specialized movement pattern, its rounding off workpiece edges very consistently and evenly. Meaning that all of the workpiece edges will end up with the exact same radius. Furthermore, the disk brush unit can be used for intermediate filler or lacquer sanding on profiled and even workpieces.
The disk brush unit is equipped with 24 rotating 5″ disks. The whole unit oscillates. Both the units oscillation as well as the disc rotation can be steplessly adjusted in order to achieve the best possible surface finish.
Brush sanders
For Kundig's factory brush unit they offer a variety of brush types: Texturing brushes equipped with different bristle types, sanding brushes and scotchbrite brushes. Horsehair brushes for workpiece cleaning are also available. Kundig's brush units can be ordered with different brush diameters, working widths, bristle materials, oscillating or non-oscillating variants, manual or automatic height adjustment any many more features.
Working Widths
650mm | 1100mm | 1350mm | 1600mm | 1900mm | 2200mm | Other sizes on request