Technical Specifications
MOTOR POWER
885 Watt motor with double front bearing
KEY SIZES TXT
W-2, solid carbide
DUST OUTLET SIZE (MM)
2" – 50mm diameter
OVERALL DIMENSIONS (MM)
29 1/8" x 25 5/8" x 32 3/4"
HEIGHT CAPACITY (MM)
3 3/8" – 85mm / moulding 5 1/8" – 130mm
VOLTAGE / PHASE
240V / 1ph
Markfield Woodworking Machinery ltd have been an Authorised Hoffmann dealer for over 10 years
---
Professional level, manually operated dovetail routing machine to rout a single dovetail keyway with each machining cycle. Heavy cast aluminium construction with large, ergonomically shaped table surface, precision linear bearings, galvanised steel motor carriage with integrated motor fine adjustment.
For Dovetail Key sizes W-0, W-1, W-2, W-3 (W-4 with optional larger motor)
Pulling the main lever downward starts the machining cycle:
Padded hold-down plate secures work-piece and motor is switched on
Continued pulling advances the router head until pre-set height is reached
Releasing the lever returns the motor to its home position and shuts off motor
Padded hold-down plate releases work-piece
With the operator controlling the speed of all machine movements, output is greatly depended on material flow, handling and operator performance.
On its backside, the large heavy-duty cast aluminium machine base has a 50mm diameter dust collection port to connect a shop vacuum for dust free operation.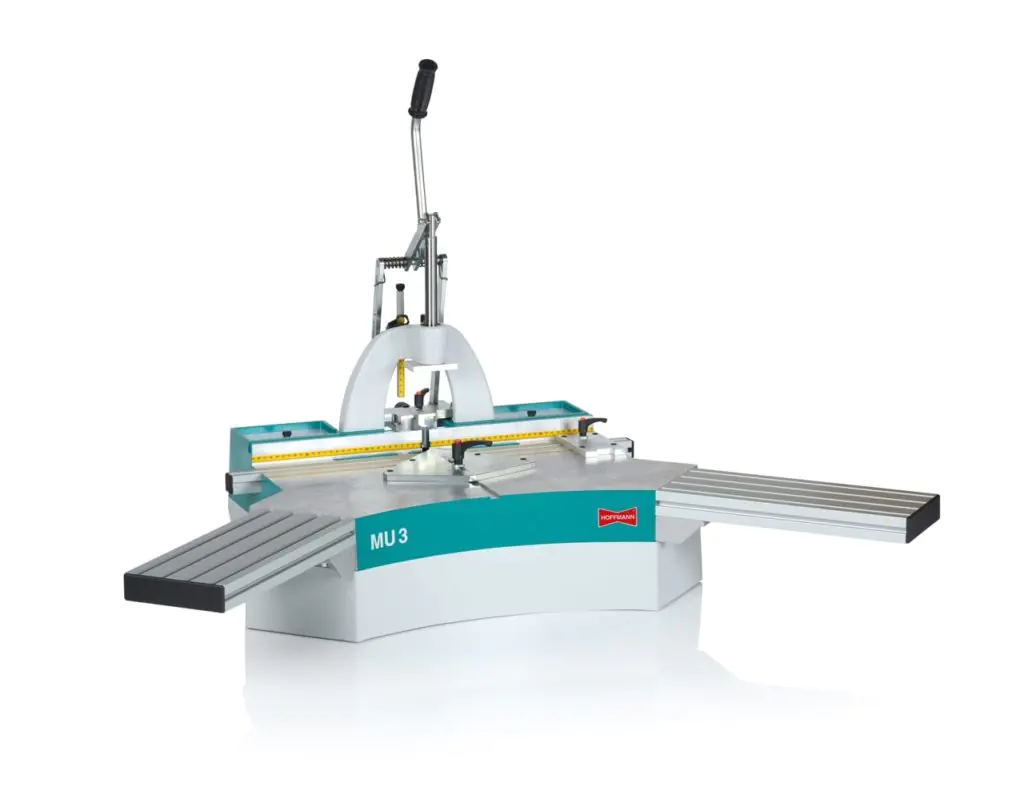 The supplied router bit is solid tungsten carbide, made to exacting specifications. Depending on the routing depth and the material to be routed, the usable cutter life is approx. 10,000 strokes, often times even more. Every machine is shipped with a tool kit and set-up jig, which allows a router bit change in only minutes.
Standard Features:
Hoffmann Dovetail Routing Machine, model MU 3, ready for operation, W-2 solid carbide router bit installed, standard 45 degree centre fence plate, centre line locator and square stop, motor fine adjustment, covered parts storage, toolkit and manual.
Optional Features:
Digital readout for router position and routing depth (Included within price)