Technical Specifications
MOTOR POWER
18.5kW + 15kW + 11kW
VOLTAGE / PHASE
415V / 3ph
Kundig Brilliant 3 Wide Belt Sander
---
This three-belt machine can be supplied in any of the following head configurations;
Roller, Roller and standard sanding pad (for joinery)
Roller, Roller and electronic sanding pad (for joinery and veneers)
Roller Roller and electronic sanding pad and lacquer options (for solid wood, veneers and lacquer)
Roller, Pad and standard sanding pad (for joinery)
Roller, electronic pad and electronic pad (for joinery and veneers)
Roller, electronic pad with electronic pad and lacquer options (for solid wood, veneers and lacquer)
1350mm / 1600mm / 1900mm working width options
At least one of the sanding heads is positioned at an oblique angle – usually the last one.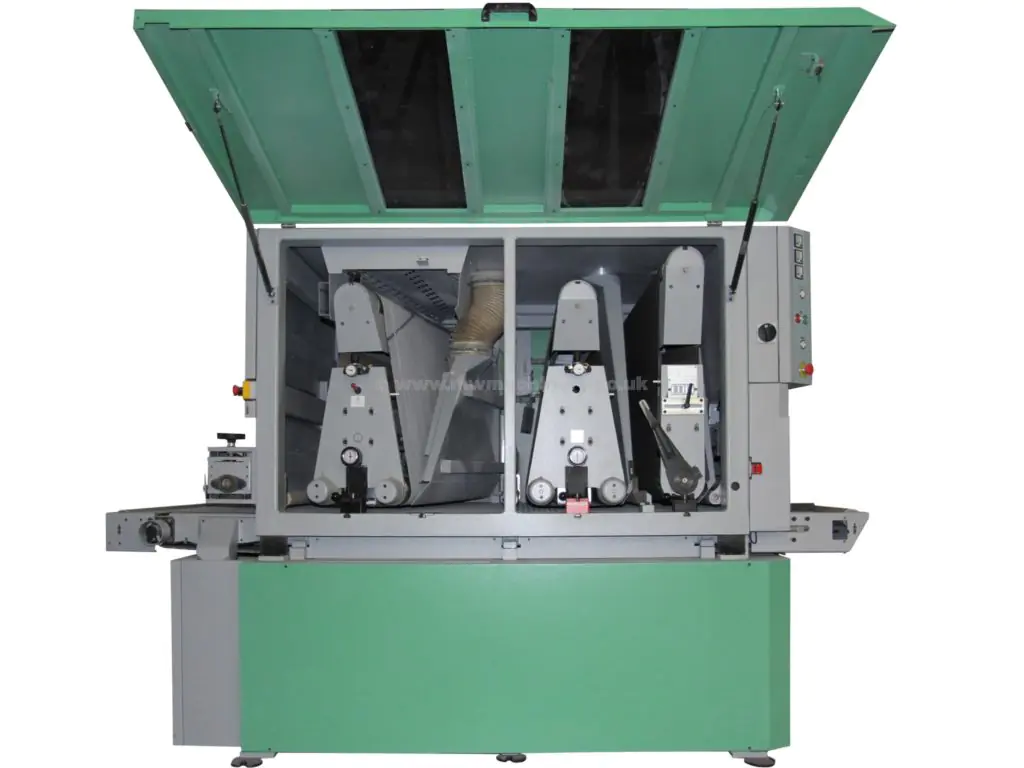 Combi Unit
Whole sanding unit is pivotable to 10 degrees
A grooved contact roller of well tested hardness
Level of contact roller infinitely variable in height according to a scale of abrasive grits
Pneumatic lifting/ lowering of the contact roller according to the selected sanding operation
Sanding pad with quickly exchangeable graphite cloth
Floating precision ground steel pressure roller at the outlet
Rubbered pressure roller at the outlet
Product Features
---
Height adjustment by motor with automatic slow motion for fine adjustment and display
Belt tension, tracking and oscillation pneumatically, consumption of air approx. 2 lt/min.
Optimum saftey conditions guaranteed by automatic emergency stop with disc brake for belt tear, belt run, pressure loss or when opening the belt entry door
Workpiece feed 1,1Kw (1.5HP) with reinforced conveyor belt
Whole electric device with contractor control; automatic star-delta starter of main motor, overload and short circuit motor protection and ammeter for supervision of stock removal
Vacuum device for conveyor table with extra punching over 200 mm for smaller workpieces
Automatic setting of height over the whole working width
Saftey device for over thick workpieces with feed stop and automatic raising of machine's upper part
Product Features
Infinitely variable adjustment of variable feed speedn 3 – 15 m/min. at the switch board.
Main motors 18.5kW, 15kW, 11kW
PLC-control / programming with colour touch-screen and TEACH-IN memory (at the touch of a button according to the sanding result, i.e. no type required) of the workpiece thickness, the stock removal and feed and the abrasive belt speed
Pneumatic control of conveyor belt
Inlet and outlet supports with roller
ENORMATIC: Automatic machine adjustment linked with start of workpiece feed
Eco-energy saving mode
Error diagnosis
The price shown is for the Brilliant 3 in 1100mm width and RRPd (roller / roller / roller pneumatic pad) configuration.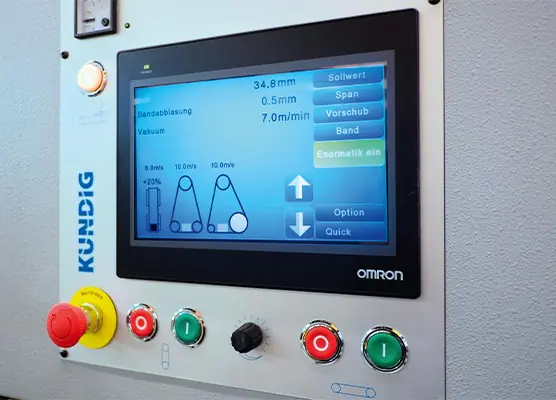 Touch Screen
---
Operators can choose between an automated and customisable quick programme and can manually adjust the parameters.
Enormatic
---
the machine will measure the workpiece thickness and start sanding automatically.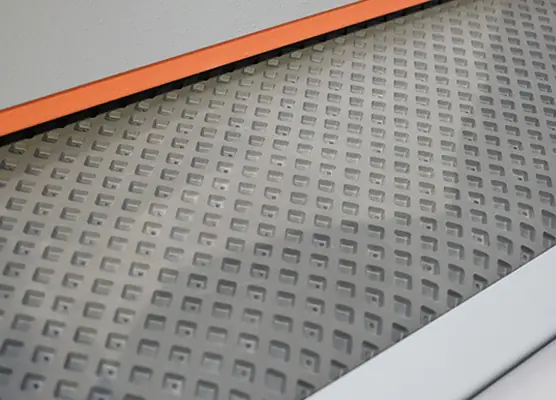 Conveyor Belt
---
Various types of conveyor belts dpending on your application. For smaller working parts a small part vacuum conveyor is avaliable. For specific applications a vacuum pump power upgrade is avaliable.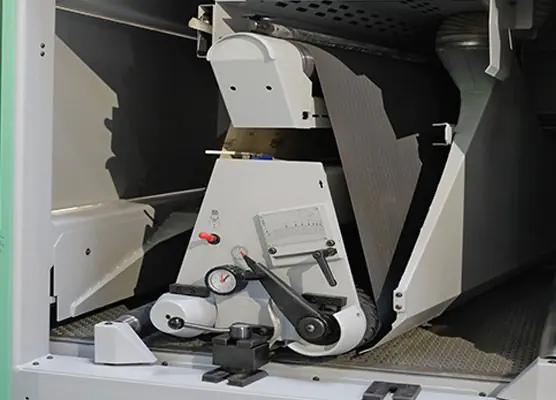 Laquer Package
---
Easy to adjust sanding belt Belt cleaning with air jets Extraction ducts 35 or 22mm sanding pad segments.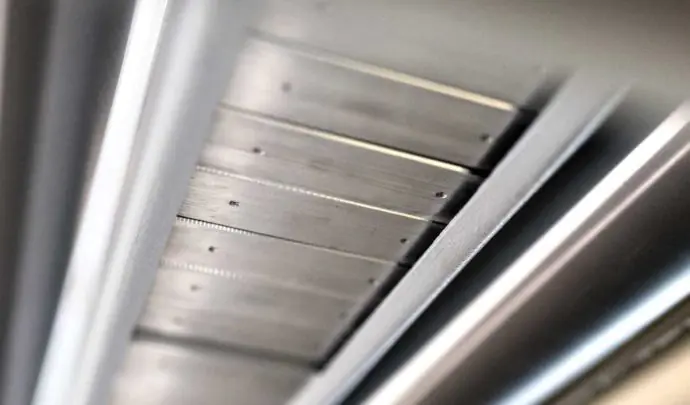 Segment pad
---
The segmented pad is divided in segments either 35 or 22 mm wide. These segments are computer controlled and preferences can easily and thoroughly be adjusted by the operator. The electronically controlled, segmented pad is especially useful for taking care of those delicate workpiece edges on lacquered or veneered parts.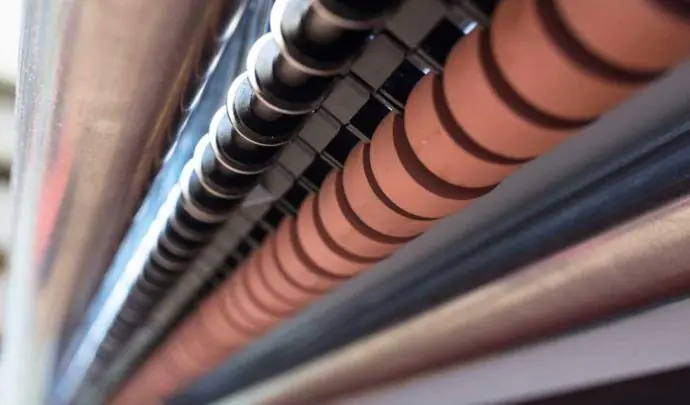 Pneumatic pad
---
Well proven sanding pad technology, especially designed for solid timber processing. A continuous air cell provides even pressure on the workpiece.
Extra Unit Options
---
Prices on application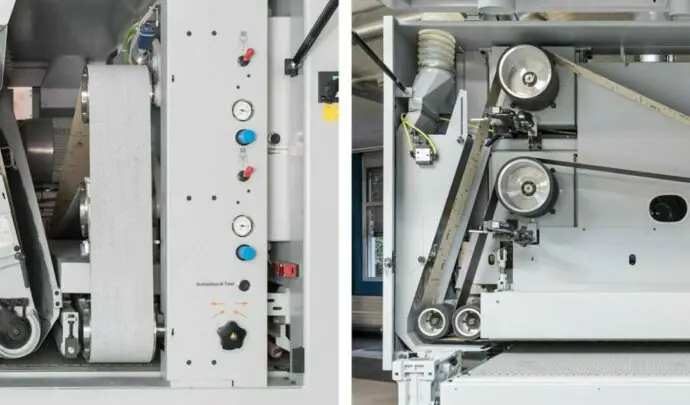 Cross Belt Unit
---
Depending on application either at machine entry, in between the other units or at the exit.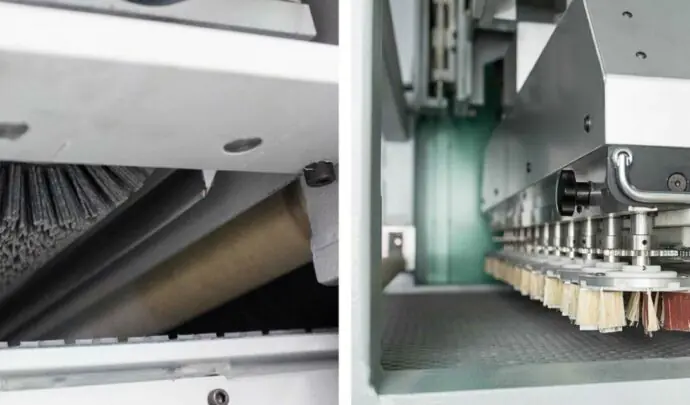 Brushes
---
Either as an add-on or as an integrated unit with a variety of brush roller types for sanding, structuring, cleaning from dust. With or without oscillation. A carousel unit for sanding of three dimensional workpiece surfaces or the rounding of edges.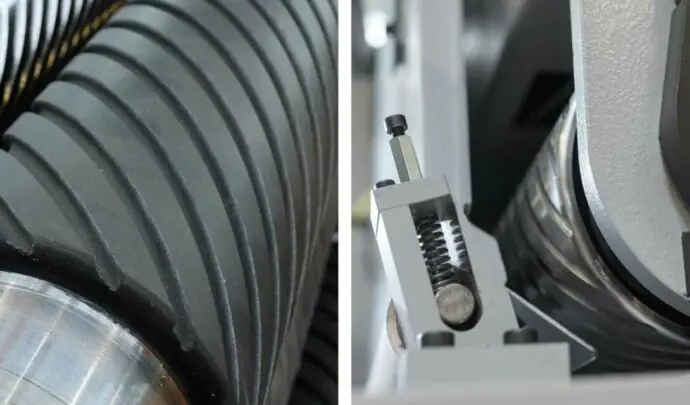 Calibration Roller
---
Steel or rubberised, in different diameters and with different belt lengths: 1900, 2000, 2620, 3250mm.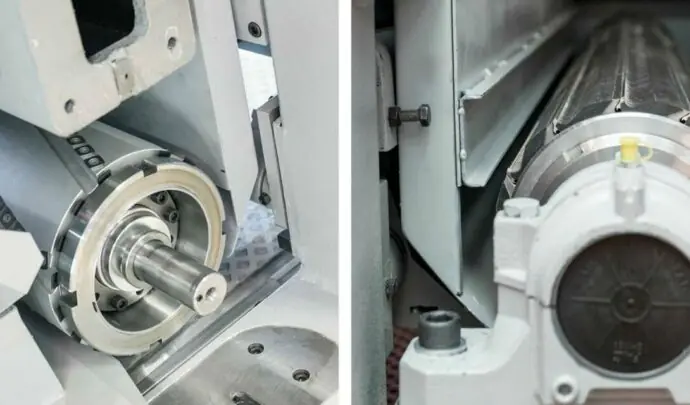 Planer Unit
---
For planing or calibrating, usually before finishing the workpiece by sanding it. Different versions available for working widths: 650, 1100, 1350, 1600mm.
More from Kündig
---
Kündig are sanding experts, they have wide range of sanding machines. They include:
Wide Belt Sanders
Kündig Perfect
Kündig Brilliant Series
Kündig Master
Edge Sanders
Kündig Uniq
Kündig Uniq-S
Kündig Flash
Browse Kündig Sanders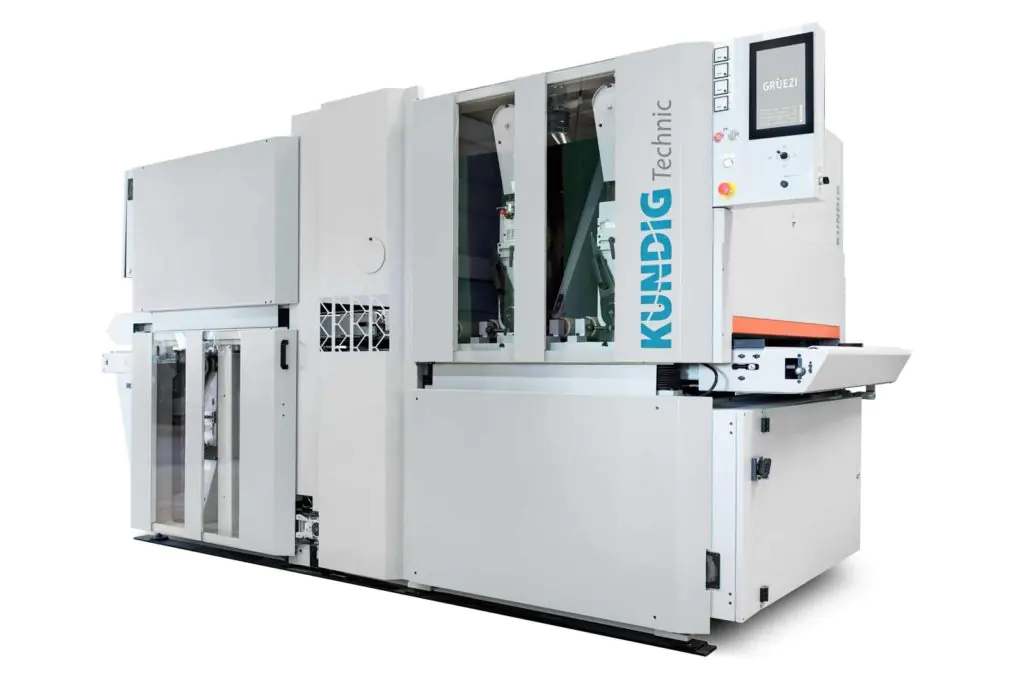 Need assistance or Expert Advice?
We pride ourselves in offering a friendly and professional service
Kundig's Brilliant series of wide belt sanders are often found in joinery and interior fitting companies and the like. They offer the same features as the Premium series does, but contain at least one unit with our patented oblique sanding technology. Simply put, Kündig's exclusive oblique sanding technology does what experienced wood workers do instinctively: Through pivoting of the sanding unit, the sanding grit's cutting ability and belt life improves and undesirable sanding traces, that are so typical for almost all wide belt sanders, don't show on the work piece.