Technical Specifications
VOLTAGE / PHASE
240V / 1ph
TABLE TILT
-7 Degrees +45 Degrees
MIN. BLADE WIDTH
3mm (1/8″)
RECOMMENDED BREAKER SIZE
15 amp
MAX. BLADE WIDTH
19mm (3/4″)
MACHINE DIMENSIONS
800mm x 683mm x 1784mm (31 1/2″ x 26 7/8″ x 70 1/4″)
RESAW CAPACITY
305mm (12″)
MITRE SLOT
3/8″ x 3/4″ (9.525mm x 19.05mm)
BLADE LENGTH
2,921mm (115″)
STAND FOOTPRINT
642mm x 460mm (25 1/4″ x 18 1/8″)
We are pleased to be introducing this multi award-winning large 12″ depth of cut bandsaw into Europe
---
Laguna's experienced designers have produced a bandsaw that we are sure will be a 'go-to' machine in most joinery shops and high-end DIY home workshops.
These 'high end' features include a pyramid-shaped spine that minimises any frame distortion when the blade is fully tensioned, ensuring cutting accuracy.
The 1 ¾ HP TEFC braked motor provides adequate power for even the deepest cuts. There is a quick blade release tension lever that makes blade changing faster and this is complemented with an easy to view blade tension scale indicator to easily ensure correct tension set up.
The micro-polished 21″ X 16″ cast iron table is mounted onto an oversized Trunion with two locking points that ensure there is a solid surface to work from. The rigid aluminium high/low fence ensures full and precise timber support.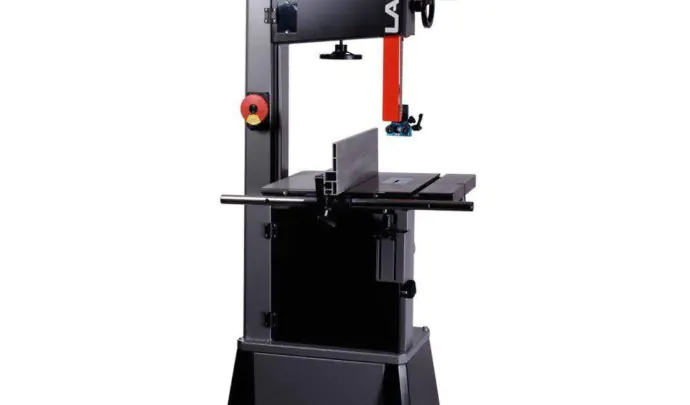 Solid cast iron wheels are electronically / dynamically balanced and fitted with polyurethane one-piece tyres.
These are designed to run cooler and last longer than conventional tyres.
The worm gear and pinion on the blade guard is ultra-smooth and engineered to have minimum flex even when fully extended – this is a trade mark of Laguna.
Double windows allow you to check both tension & tracking while the machine is running.
There is a premium anodized aluminium throatplate with fine adjustment for ultimate accuracy.
And last but certainly not least, the famous ceramic Laguna guides create 10 points of contact on the blade allowing easy set up and highly accurate cuts even when re-sawing deep timber.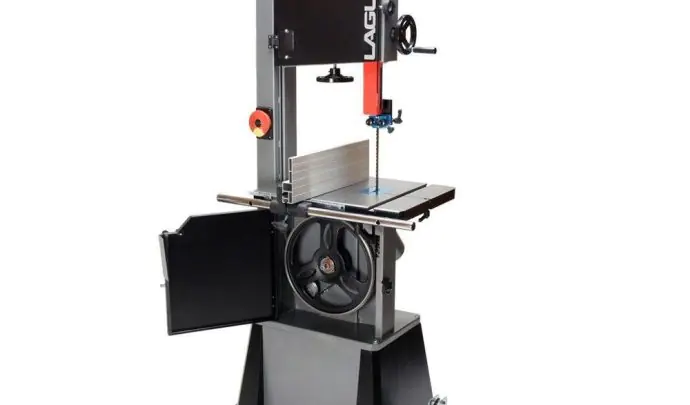 This really is a machine that needs to be viewed in the flesh to appreciate the premium build quality and features that have established this saw as a best seller in America and Canada.
Options Available: 
Wheel kit – £100.00
6mm x 2921mm blade – £15.00
10mm x 2921mm blade – £15.00
13mm x 2921mm blade – £15.00
20mm x 2921mm blade – £20.00