Technical Specifications
Max height of clamps from working table
70mm
Voltage / Phase
415V / 3ph
Height of working table
860mm
Overall Dimensions
1030 x 1030 x 1285mm
Packing dimensions
1070 x 950 x 1030mm
Max dimensions of the workpiece
915x3000mm
Distance between spindles
32mm
Working air pressure
6-8 Bar
Dust extraction outlet
80mm
Inside diameter of quick change bushes
10mm
Dimensions of the working table
885x375mm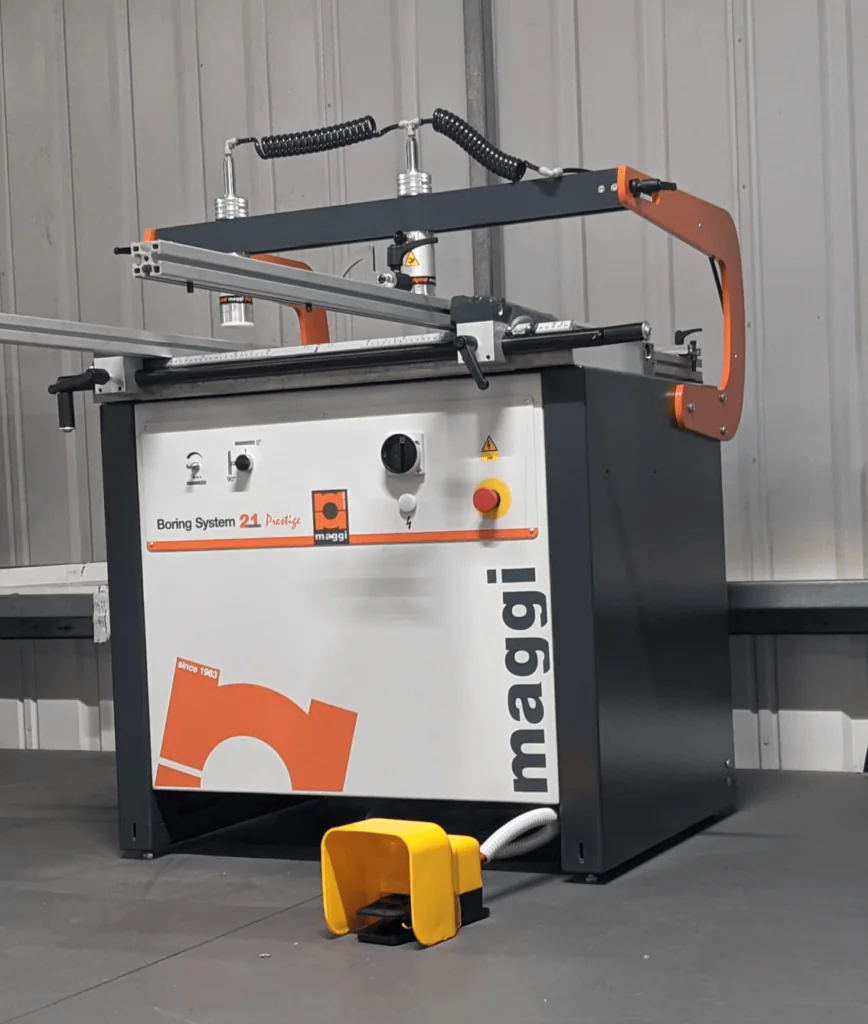 Maggi Boring System 21
---
New Maggi Boring System 21 for sale. 21-spindle, single head drilling machine suitable for all carpentry needs, ideal for joining a work centre to save time and release it from drilling operations.
For horizontal and vertical drilling, quick and precise setup, high quality finish, safety devices with pneumatic head rotation from 0 to 90Deg with a lock and stop reference.
About Maggi
---
Since its foundation in 1963, Maggi has always stood out for research and innovation. Today Maggi offers you the world's most complete range of drilling technologies and solutions for all carpentries and for furniture industry. Discover today the machine that suits for you!
Other Maggi Boring Machines
---
Maggi's wide range of multi borers include, Boring System 21 Prestige, Boring System 23, Boring System 29, Boring System 35, Boring System 46, Boring System 323 Digit.
Maggi Multi Borers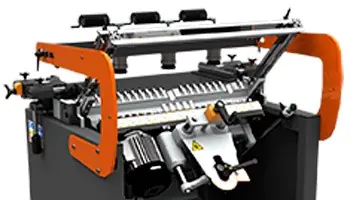 Pneumatic head rotation
---
With lock and stop reference from 0° to 90° at any angle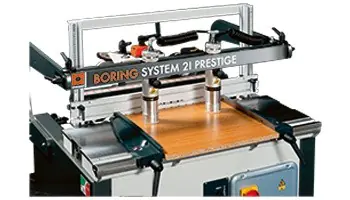 Side Reference Fences
---
Adjustable cast iron fences on a metric scale thanks to a magnifying glass and nonius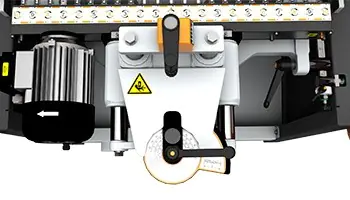 Patented Spiral System
---
Device for boring depth adjustment, allowing an easy and quick set-up on a millimetric scale according to the different drill length
Optional Extras for Maggi Boring System 21
---
Prices on application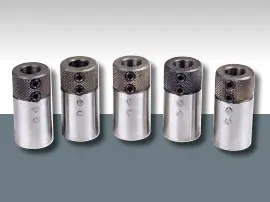 Extra quick-change bushes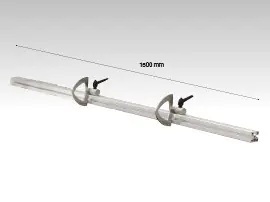 Right and/ or Left aluminium fence with 2 stops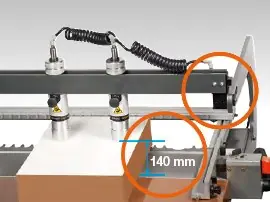 Blocks to lift clamps up to 140mm from table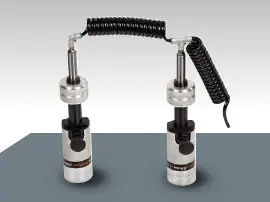 Head-unit for hinges – Blum, hettich, grass, Salice
MW Machinery & Maggi Woodworking Machinery
---
Markfield Woodworking Machinery have been stockist of Maggi woodworking machinery for over 15 years. Maggi Technology sell their products around the world. They're currently exporting to more than 80 countries. With 60 staff members Maggi are incredibly efficient and well structured.
Based in Tuscany, Italy, Maggi Technology have traditions that survive through the centuries. They derive from our arts and crafts, technology and every aspect of human activity, and are achieved through a successful combination of creativity and experience. Located in Certaldo, in the heart of Tuscany. It has been engineering and producing woodworking machinery since 1963. We began our business producing automatic feeders. Now, our range of products has widened to include radial arm saws and a line of multiple boring machines: technology for both handcrafts and industrial activities.
Need assistance or Expert Advice?
We pride ourselves in offering a friendly and professional service