Technical Specifications
Processing width
10 – 250 mm
Programs
48 programme set with 24 programs
Processing Height
10 – 250 mm
Automated Control
2-axes, height and width
Martin Q Fin Sanding Machine
The surface quality of your product is the best way to promote your company. And what's more: superior quality, lower production costs, improved product durability and a healthier work environment due to lower dust emission …all of these advantages are made possible with the Q-FIN technology.
Key benefits:
Premium surfaces by diffused light reflection
Reducing manufacturing costs by avoiding intermediate varnish sanding
No intermediate sanding = previously applied finish layers remain on the wood
Prepares individual window scantlings on all six sides = improved protection of corner joints
Easy operation, low maintenance costs
Healthier work environment by reducing the emission of fine dust
Intelligent and solid engineering – simply MARTIN
Technical data Q-FIN
Processing width: 10 – 250 mm
Processing height: 10 – 250 mm
Min. work piece length: 350 mm
Operation:
10.4″ touch-screen
2-axes control for width and height with automated referencing
Optical clearance of work piece feed
Quality Finishing and sanding drive can be switched on/off individually
100 programmes for width / height
48 programme sets with 24 programmes
Quality FinishQ Fin Sanding MachineQ Fin Sanding Machine
---
The "Q-FIN" is a machine for the geometrically defined cross-grain-cutting of fibrous wood on visual surfaces such as door and window components. This "Quality Finishing" process makes wooden surfaces super smooth which considerably improves their properties.
The widespread adaption in the window and door industry of hydro planing with industrial moulding machines promises very smooth and even wooden surfaces. But the more uneven of the growth rings are and the higher the difference in hardness off early wood vs. late wood and the duller the tool, the more unsatisfying the planing results become.
The flaws in the moulder's machined surface become clearly visible viewed against the light. You can see chatter marks as well as burnished areas that can appear shinier or duller. Pigmented water-based varnishes that are quite commonly used today are absorbed by the wood differently. This may cause a considerable difference in the colour or a "splotchy" effect, especially when darker colours are used. And after applying water soluble finishes, the wood fibres that were initially pressed down, straighten up again, causing "raised grain". This causes a rough surface which makes additional hand sanding necessary.
Approximately 20% of the manufacturing costs for windows consists of intermediate sanding work. And every time this has to be done, a little bit of the surface protection is removed. In most conventional work environments, this often also causes the emission of hazardous fine dust particles into the working area environment.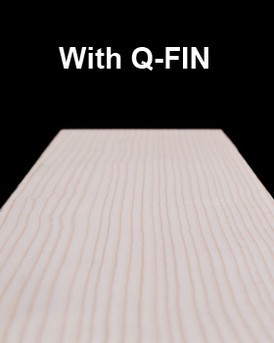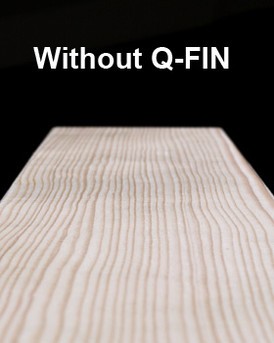 Cross Grain Machining Instead Of Sanding
---
This is where the "Quality Finishing" process sets in. By finely cross cutting the work piece, the wood fibres that run lengthwise are cut microscopically at a right angle against the hard growth rings. A precision like this cannot be achieved with conventional sanding
techniques. And what's impressive – when the water-based wood preservatives are applied subsequently, the fibres do not straighten up anymore. No matter what kind of wood, optical imperfections that window manufacturers are normally used to, are replaced by smooth,
homogenous, dull and uniformly fine surface structures with diffused light reflection. The bigger the difference between early and late wood, e.g. spruce, the more positive the effect. As a rule no further sealer sanding is necessary and wood preservatives do not have to be applied again.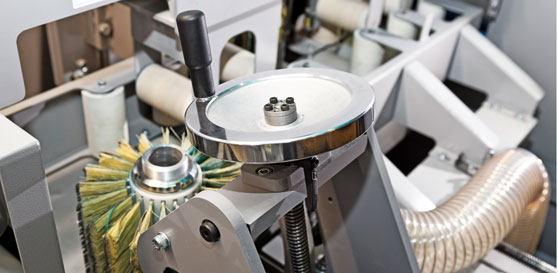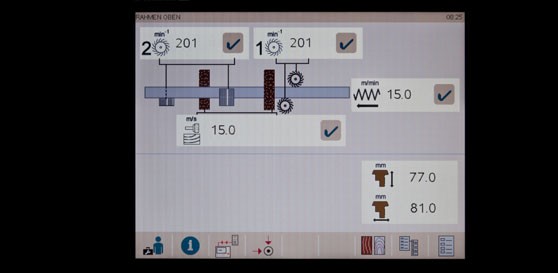 Although the machine is able to remove up to 5/10 mm of wood, this is not its primary purpose. It's not simply about "hogging off" material, rather it's about producing a homogenous surface to subsequently help to make an even level of finish material. The dust extraction works extremely efficiently and returns clean air to the work environment.
Today's wood preservatives, primer coatings and topcoats contain a high percentage of diffusion agents to conceal existing surface deficiencies by diffused light reflection. The more diffusion agents are applied, the more matt the appearance and so the natural optical properties of the wood give way to a "plastic look". When suitable varnishes are used, the homogenous surface produced with the Q-FIN gives windows a considerably finer and more natural look.
Intelligent Engineering
---
For precise cross-cutting it is imperative to always feed the window profiles with their different geometries through the machine precisely and gently on four sides. MARTIN has devised a unique patent pending roller transport system. There are no imprints caused by conveyor chains or support shoes. Quick and automated dimension adjustment of all tool units are made on the basis of the tool dimension by indicating the corresponding profile types and cross sections.