MORSO NFL Manual Notching Machine
---
The MORSO NFL is a heavy-duty, foot pedal operated notching machine used in the manufacturing process for beaded face-frames, French mitered cabinet doors as well as muntin and mullion joints. This manual model will accept moulding up to 2 3/4″ wide, allowing the operator to process virtually every face frame, including wide bottom and top rails.
The machine features a heavy-duty steel frame with cast iron tabletop. The vertical travel of the cutting head, which is also made of cast-iron, can be adjusted according to the workpiece thickness. This provides comfortable operation.
Operation of the MORSO NFL Manual Notching Machine: Notching Operation (stiles)
Upon adjusting the cock-bead stops to set the notching depth, the moulding is placed on the machine table and one end is rested against a flip-stop. The hand lever in front is used to move the cutting head horizontally to and from the operator. Depending on the width of the cut, the thickness and hardness of the moulding, two to four cuts are made to complete the notch. This process takes only seconds and the resulting cuts are smooth and free of tear-out.
Technical Specifications
Min/Max Nose Knife
12mm – 26mm
Width including fences
3000mm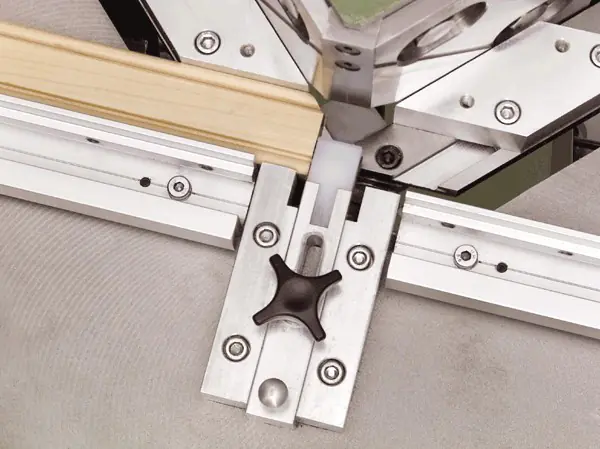 Coping Operation (rails)
Upon adjusting the setscrews in the nylon center fitting, the stop is moved toward the cutting head and locked in place. The rail is placed on the table and pushed against the stop. The 45-degree corner cut on the bead is made in one cycle, multiple cuts are not necessary. The moulding is then flipped end-for-end and the process is repeated.
Cutting Head Details
To increase the range of applications, we offer matched smaller cutting heads with each machine. These heads are fitted at the MORSO factory and can be replaced in only minutes. The side knives fit on both heads; only the nose knives differ in design. We highly recommend the purchase of the smaller head to produce haunch joints in window grills, cabinet door mullions, etc. The cast-iron head actually costs less than a second pair of side knives!