Technical Specifications
Filter Sizes
Q160 x 940 mm
Waste Storage
3 Pcs Metal Container
Unit Sizes
1200 x 3170 x 2330 mm
Electrical Panel
Star Delta Starter
Motor Power
11Kw / 15HP 3000 RPM
Motor Drive Type
Direct Drive
The all new SAF STK 10000 is the perfect choice for anyone looking for a strong yet compact fully featured dust unit and would be typically well suited when connected to a CNC routing machine. The machine is a multi filter design, giving a large filtration area and coupled with the steel enclosure which helps to contain any emissions of dust compared to the open filter dust units.
The machines also have an auto shaker to help clean the filters along with metal dust bins which help contain the dust especially during the bag changing.
The filter box is a necessity for CNC routing machines where small pieces could be extracted and would ordinarily hit the impellor. The filter box has a gauze having 25mm square mesh design which collects any larger pieces, therefore protecting the fan from damage.
The part separator prevents parts larger than 25x25mm from entering the propeller. This protects the propeller against balancing and ensures it to last longer.
Preventing parts of 25x25mm and above from entering the propeller reduces the risk of fire.
Metal propeller is used in all product groups.
All products are produced in CE standards.
All products are design registered.
Utility model registration of the part holder has been made. And it is a product unique only to our company.
N.B. Unit is 415v 3 phase
Mobile dust collector with flow capacity of 10000 m3 per hour.
Body sheet thickness is 1.2 mm. The propeller and blades are at least 3 mm according to the fan size. The propeller is dynamically and statically balanced.
Painted with two colours electrostatic powder paint.
In IP55 standards, IE3 high efficiency motor is used. There is a part separator that protects the propeller against balancing and reduces the risk of fire.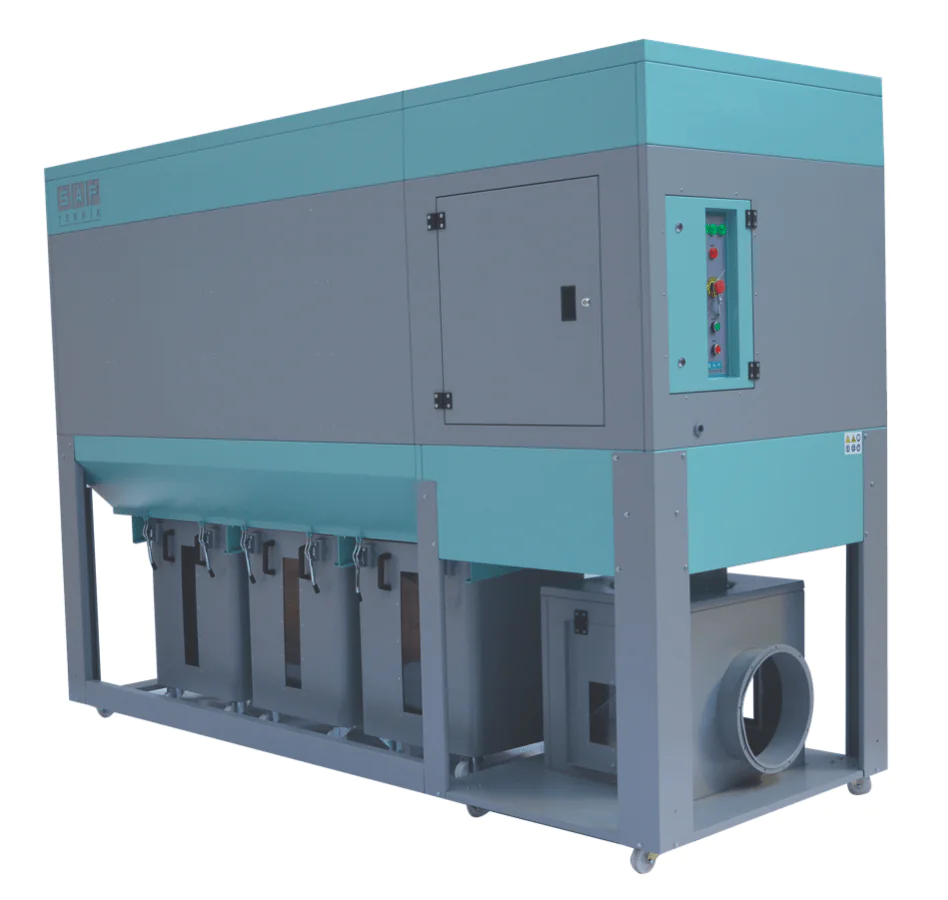 Need assistance or Expert Advice?
We pride ourselves in offering a friendly and professional service