Technical Specifications
MACHINE TYPE
Wide Belt Sanders
VOLTAGE / PHASE
415V / 3ph
EXTRACTION OUTLET
2 x 180mm 1 x 250mm
TOTAL AIR VOLUME
3600 m3/h
OPERATING AIR PRESSURE
6 Bar
SANDING BELT WIDTH
1350 mm
WORKPIECE MAX. WIDTH
160 mm
AIR VELOCITY AT MAIN CONNECTION
20 m/s
SANDING BELT LENGTH
2000 mm
WORKPIECE MAX. WIDTH
1350 mm
WORKPIECE MIN. THICKNESS
4 mm
CONVEYOR SPEED
3-15 m/min
Contains the essence of Kundig's 75 years of experience in sanding technology
---
Delve into the Core of Sanding Mastery with Kundig Sander – A Culmination of 75 Years of Expertise. Our Legacy in Sanding Technology has been Distilled into Perfection, Offering an Unparalleled Experience in Precision. Every Aspect is Crafted by Seasoned Masters, Making it the Trusted Choice for Woodworking Shops Globally. Discover Configurations that Have Withstood the Test of Time, Ensuring Swift and Dependable Production of Impeccable Surfaces.
Features
Construction: The Mastery Transcends – Unmatched Robustness and Durability Across All Model Series. The Master Boasts the Identical Stalwart Build, Ensuring Every Machine is an Investment in Longevity. With Unwavering Precision, Our Machines Deliver Impeccable Sanding Results for Years on End.
Head Movement – Constant Pass Line: Pioneering Excellence for Over Three Decades – Our Machines Exclusively Feature Moving Top Sections. The Choice Is Clear: Complexity Elevates Design, Resulting in Unrivaled Benefits. With Enhanced Load Capacity, Enduring Precision, and the Perks of a Steady Work Height, Our Approach Surpasses Conventional Table Adjustments. Witness the Advancement That Fuels Reliability.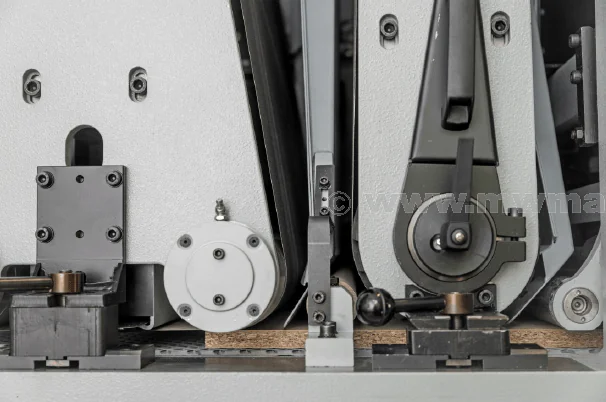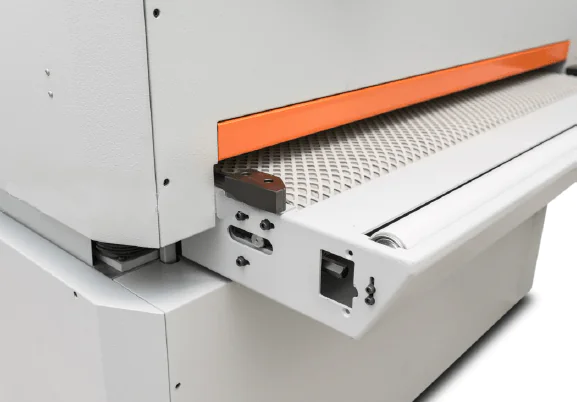 Workpiece Dimensions Precision Refined – Upper Section Adjustment Effortlessly Motorized, Offering Finesse via Intuitive Touch Screen Control. Passage Opening Customization is Seamless. Enjoy a Minimum 200mm Passage Height. Embracing a Spacious 1350mm Working Width, Kundig Master Sets the Gold Standard.
Eco* Energy saving Mode: Redefining Efficiency, Kundig Master Incorporates Our Exclusive Eco* Energy-Saving Mode. Ingeniously Engineered Software Tailors Power Consumption to Workload. Seamlessly Adapting, the Machine Swiftly Transitions to Standby Mode During Work Pauses, Springing Back to Action Instantaneously. Witness Significant Savings without Compromising Unrivaled Performance
Operation: 
Intuitive Controls at Your Fingertips: Experience Unparalleled Convenience with Clearly Organized Touch Screen Access. Essential Parameters for Flawless Sanding Are at Your Command. Tailor Feed Speed (3-15m/in), Stock Removal, Passage Height/Target Thickness, and Segmented Pad Controls (E-Plus Package) to Perfection. Alternatively, Harness the Ease of Operation via Rotary Switch, Analog Stick, and Responsive Buttons. Achieve Ideal Settings in Mere Seconds, Crafted for Impeccable Sanding.
Precision in Every Dimension: Measure Workpiece Thickness Across the Entire Working Width, Ensuring Utmost Accuracy. Store Separate Programs for Repetitive Sanding Tasks, Streamlining Efficiency. Safeguarding Operations, the Overthickness Safety Feature Mitigates Major Errors. With Intelligent Error Diagnosis, Uncover Insights into Any Stops, Ensuring a Seamless Workflow
The Sanding Units: A proven combination. The sanding units are based on the proven combinatrion of a callibration roller and a sanding pad unit. The two versions in which the Kundig Master is available are distinguished by the fine sanding pad unit. For a safe workpiece guidance there's a parallel spring loaded steel pressure roller at the machine infeed, and rubber presusre rollers between the sadning units.
Calibration Unit (R): The calibration roller is a grooved rubber contact roller of a proven hardness. It is ideally suited for a calibration tasks, if necessary also with high stock removal rates. The level of the contact roller is adjustable to compensate for the thickness of the inserted abrasive grit.
Segmented Sanding Pad (E): With the E-Plus package, the fine sanding unit has a segmented, electronically controlled sanding pad with workpiece detecting the rollers 35mm wide. This allows an even more precise fine sanding in the edge area of the workpiece. The edge pressure of the sanding segments is automatically controlled, but can also be adjusted on the touch-screen in order to influence the sanding around the edges of the workpiece even more precisely. Here too, the graphite cloth insert can be changed quickly and easily.
Pneumatic sanding pad (P): As part of the comfort package, the Master is equipped with a pneumatic sanding pad. The presure of the inflatable sanding pad can be precisely adjusted by means of a regulator. Graphite cloth inserts can be replaced quickly and easily.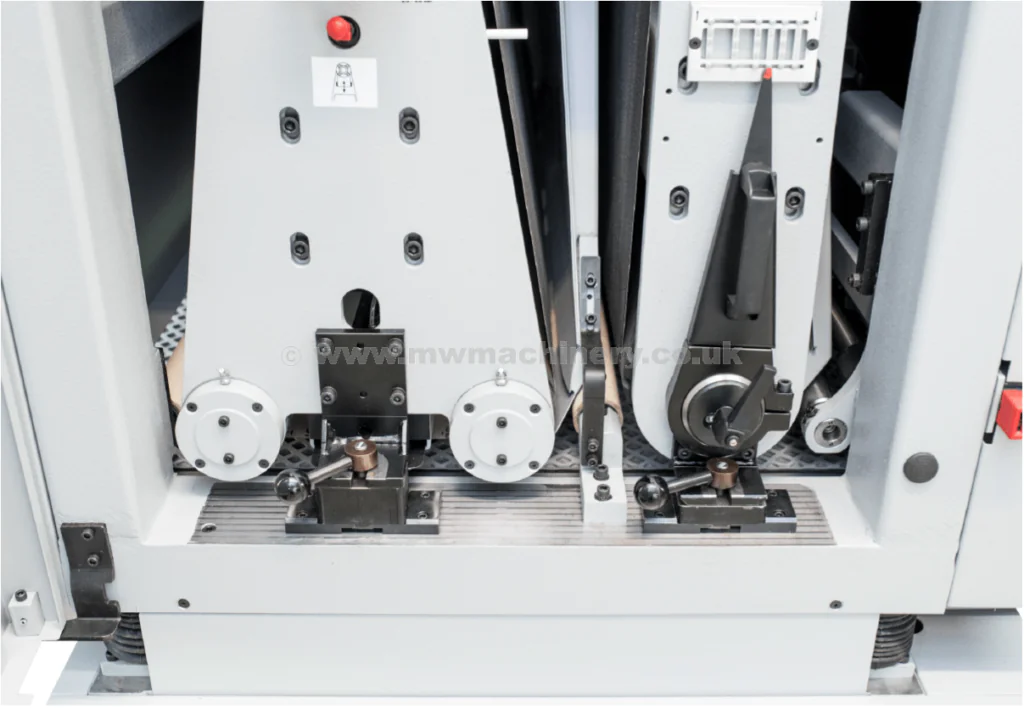 Solid, Space-saving 2-widebelt sander for high quality calibrating and finishing
Constant passline through adjustment of machine's upper part (constant working level)
1350mm Working width (53inch)
With 2 units sanding from the top
A grooved contact roller of well tested hardness
Level of contact roller infinitely variable in height according to a scale of abrasive grits
Sanding pad with quickly exchangeable graphite cloth
Floating precision ground steel pressure roller at the inlet
Rubbered pressure rollers between the sanding units and at the outlet
Main motror 15Kw (20HP), 400 volts/ 50Hz
Height adjustment by motor with automatic slow motion for fine adjustment and digital display
Belt tension, tracking and oscillation pneumatically, consumption of air approx. 4 lt/min.
Workpiece feed 0.75Kw (1HP)  with reinforced conveyor belt and rubbered driving roller
Whole electric device with contactor control; automatic star-delta starter of main motor, overload and shortcircuit motor protection and ammeter for supervision of stock removal
Workpiece thickness Max. 160mm (6.3Inch)
Abrasive belts 1350 x 2000 mm
E-Plus-Package: 
All features of the Comfort-Package
Intead of pneumatic sanding pad: Electronically controlled, segmented sanding pad for even more fine tuned sanding performance, especially in the edge areas of workpieces
Comfort Package: 
Air-Filled sanding pad with high precision air pressure regulator
Automatic setting of height over the whole working width
Safety device for overthick workpieces with feed stop and automatic raising of machine's upper part
Infinitely variable adjustment of stock removal
Electronic adjustment of variable feed speed 3-15 m/min. At the switch board
PLC-control/ programming with colour touch screen and TEACH-IN memory (at the touch of a buttin according to the sanding result, i.e no type in required)
Pneumatic control of conveyor belt
Inlet and outlet supports with roller
Eco*- energy saving mode
Error Diagnosis
Hour meter per lot and in total
Kundig Master Veneers Spec
---
The Kündig Master 2-belt sander has a generous 1350 mm working width and the same solid construction that has proven its durability and robustness in the other models. The units are equipped with a calibration roller and a fine sanding pad with segment technology (electronically controlled). Kündig draws on a wealth of experience from several thousand machines delivered with this configuration. As always, the controls are logical and quick using the touch screen or via analogue operating elements. The Kundig Master provides a straight forward and inviting user experience.