Technical Specifications
MACHINE TYPE
Wide Belt Sanders
VOLTAGE / PHASE
415V / 3ph
EXTRACTION OUTLET
2 x 180mm 1 x 250mm
TOTAL AIR VOLUME
3600 m3/h
OPERATING AIR PRESSURE
6 Bar
SANDING BELT WIDTH
1350 mm
WORKPIECE MAX. WIDTH
160 mm
AIR VELOCITY AT MAIN CONNECTION
20 m/s
SANDING BELT LENGTH
2000 mm
WORKPIECE MAX. WIDTH
1350 mm
WORKPIECE MIN. THICKNESS
4 mm
CONVEYOR SPEED
3-15 m/min
Kundig Master – Veneers
---
When it comes to sanding, the Kundig Master gets to the point. It contains the essence of Kundig's 75 years of experience in sanding technology. This means that it combines "out of the box" properties that are essential for the fast, reliable production of perfect surfaces. No more, no less. The master model has a generous working width of 1350 mm, also equipped with calibration roller as well as a fine sanding pad unit and features the proven, robust construction that guarantees decades of high sanding precision. The quick and easy controls make for a great user experience.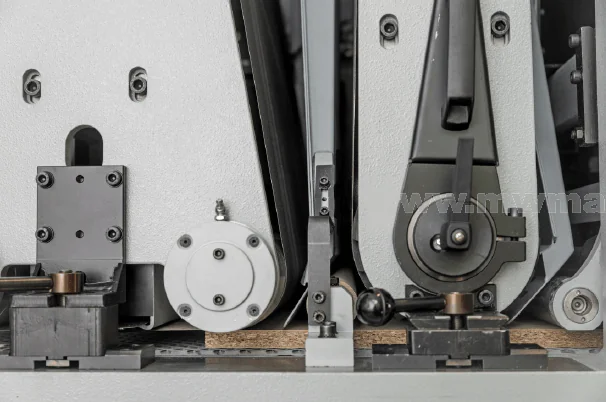 Features
Construction: KUNDIG Master is in no way inferior to any other KUNDIG model series in terms of robustness and durability. It has the same solid construction, which makes all our machines investments with foresight that still reliably deliver precise sanding results even after many years of use.
Head Movement – Constant Pass Line: For three decades KUNDIG have been equipping their machines exclusively with moving top sections. Why? Compared to classic table adjustment, it is more complex in design, but also better in many respects. The machine can be loaded with higher workpiece weights, it maintains its precision more reliably and you have the advantage of a constant working height.
Workpiece Dimensions The adjustment of the upper part, i.e. the passage opening, is motorised, finely adjustable via the touch screen. The maximum passage height is at least 160mm (6.3 inch). With a working width of 1350 mm (53 inch), the Kundig Master has a generous and well proven standard dimension.
Eco* Energy saving Mode: Kundig Master is equipped with our specially developed Eco* energy saving mode. This software regulates the power consumption depending on load. As soon as work breaks occur or any period of inactivity, the machine will go into standby mode. It is then immediately ready for use again. This results in significant savings without compromising performance.
Operation: All parameters required for sanding are directly accessible on the clearly arranged touch screen. This includes, for example, the feed speed (3-15m/in), the stock removal, the passage height / target thickness of the sanding result, as well as the segmented pad controls (E-Plus package). Alternativley, the master can also be easily operated via rotary switch, analogue stick and buttons. The settings for perfect sanding are thus made in seconds. The workpiece thickness can be measured over the entire working width. Seperate programs can be stored for repetitive sanding operations. Safety features such as the overthickness safety feature prevent gross operating errors and, thanks to the intelligent error diagnosis, the user is informed what brought the machine to stop, if one happened to occur.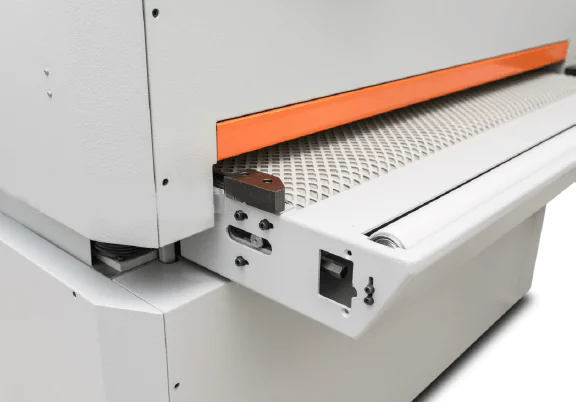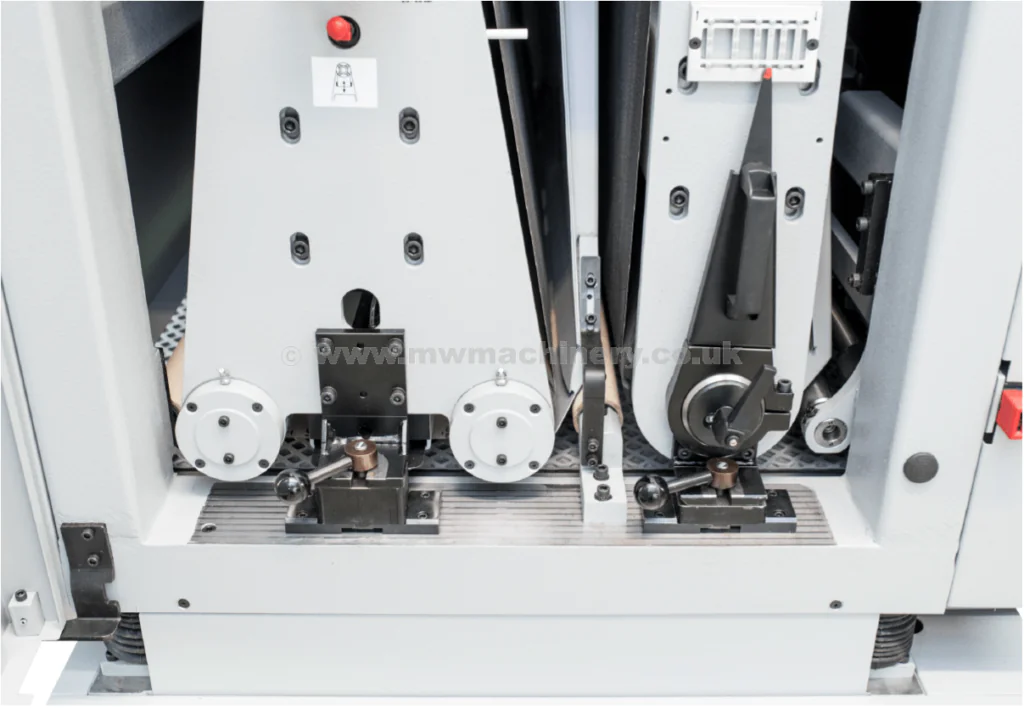 The Sanding Units: A proven combination. The sanding units are based on the proven combinatrion of a callibration roller and a sanding pad unit. The two versions in which the Kundig Master is available are distinguished by the fine sanding pad unit. For a safe workpiece guidance there's a parallel spring loaded steel pressure roller at the machine infeed, and rubber presusre rollers between the sadning units.
Calibration Unit (R): The calibration roller is a grooved rubber contact roller of a proven hardness. It is ideally suited for a calibration tasks, if necessary also with high stock removal rates. The level of the contact roller is adjustable to compensate for the thickness of the inserted abrasive grit.
Segmented Sanding Pad (E): With the E-Plus package, the fine sanding unit has a segmented, electronically controlled sanding pad with workpiece detecting the rollers 35mm wide. This allows an even more precise fine sanding in the edge area of the workpiece. The edge pressure of the sanding segments is automatically controlled, but can also be adjusted on the touch-screen in order to influence the sanding around the edges of the workpiece even more precisely. Here too, the graphite cloth insert can be changed quickly and easily.
Pneumatic sanding pad (P): As part of the comfort package, the Master is equipped with a pneumatic sanding pad. The presure of the inflatable sanding pad can be precisely adjusted by means of a regulator. Graphite cloth inserts can be replaced quickly and easily.
Solid, Space-saving 2-widebelt sander for high quality calibrating and finishing
Constant passline through adjustment of machine's upper part (constant working level)
1350mm Working width (53inch)
With 2 units sanding from the top
A grooved contact roller of well tested hardness
Level of contact roller infinitely variable in height according to a scale of abrasive grits
Sanding pad with quickly exchangeable graphite cloth
Floating precision ground steel pressure roller at the inlet
Rubbered pressure rollers between the sanding units and at the outlet
Main motror 15Kw (20HP), 400 volts/ 50Hz
Height adjustment by motor with automatic slow motion for fine adjustment and digital display
Belt tension, tracking and oscillation pneumatically, consumption of air approx. 4 lt/min.
Workpiece feed 0.75Kw (1HP)  with reinforced conveyor belt and rubbered driving roller
Whole electric device with contactor control; automatic star-delta starter of main motor, overload and shortcircuit motor protection and ammeter for supervision of stock removal
Workpiece thickness Max. 160mm (6.3Inch)
Abrasive belts 1350 x 2000 mm
E-Plus-Package: 
All features of the Comfort-Package
Intead of pneumatic sanding pad: Electronically controlled, segmented sanding pad for even more fine tuned sanding performance, especially in the edge areas of workpieces
Comfort Package: 
Air-Filled sanding pad with high precision air pressure regulator
Automatic setting of height over the whole working width
Safety device for overthick workpieces with feed stop and automatic raising of machine's upper part
Infinitely variable adjustment of stock removal
Electronic adjustment of variable feed speed 3-15 m/min. At the switch board
PLC-control/ programming with colour touch screen and TEACH-IN memory (at the touch of a buttin according to the sanding result, i.e no type in required)
Pneumatic control of conveyor belt
Inlet and outlet supports with roller
Eco*- energy saving mode
Error Diagnosis
Hour meter per lot and in total
Kundig Master Veneers Spec
---
The Kündig Master 2-belt sander has a generous 1350 mm working width and the same solid construction that has proven its durability and robustness in the other models. The units are equipped with a calibration roller and a fine sanding pad with segment technology (electronically controlled). Kündig draws on a wealth of experience from several thousand machines delivered with this configuration. As always, the controls are logical and quick using the touch screen or via analogue operating elements. The Kundig Master provides a straight forward and inviting user experience.