Technical Specifications
MOTOR POWER
18.5kW + 15kW + 11kW
VOLTAGE / PHASE
415V / 3ph
Kundig Technic 4 Wide Belt Sander
Nicknamed "The five-piece door machine" This sander has been specially designed for sanding the sometimes tricky 5 piece door. Made up of two calibration rollers, an oblique roller pad and brush carousel.
The first two rollers calibrate the door and finish the top to a standard ready for the oblique head.
The oblique head with its 10° sanding angle sands both straight and cross grains perfectly with no "tare out" marks.
The roundabout brush carousel then sands the recessed inner panel
This machine also comes with longer sanding belts for longer life in high production
The price shown is for the Technic – Brush 4 in 1350mm width and RRBkCd-L configuration with lacquer options.
Features
Height adjustment by motor with automatic slow motion for fine adjustment and display
Belt tension, tracking and oscillation pneumatically, consumption of air approx. 2 lt/min.
Optimum saftey conditions guaranteed by automatic emergency stop with disc brake for belt tear, belt run, pressure loss or when opening the belt entry door
Workpiece feed 1,1Kw (1.5HP) with reinforced conveyor belt
Whole electric device with contractor control; automatic star-delta starter of main motor, overload and short circuit motor protection and ammeter for supervision of stock removal
Main motors 18.5kW, 15kW, 11kW,
Vacuum device for conveyor table with extra punching over 200 mm for smaller workpieces
Automatic setting of height over the whole working width
Safety device for over thick workpieces with feed stop and automatic raising of machine's upper part – Infinitely variable adjustment of variable feed speed 3 – 15 m/min. at the switch board.
Main motors 18.5kW, 15kW, 11kW
PLC-control / programming with colour touch-screen and TEACH-IN memory (at the touch of a button according to the sanding result, i.e. no type required) of the workpiece thickness, the stock removal and feed and the abrasive belt speed
Pneumatic control of conveyor belt
Inlet and outlet supports with roller
ENORMATIC: Automatic machine adjustment linked with start of workpiece feed
Eco-energy saving mode
Error diagnosis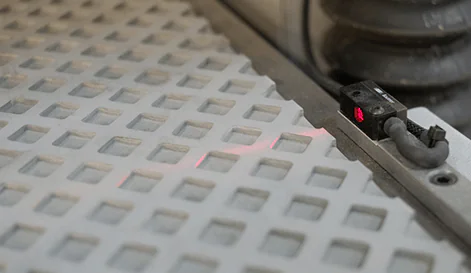 Enormatic
Set your stock removal via the touchscreen control panel – the machine will measure the workpiece thickness and start sanding automatically.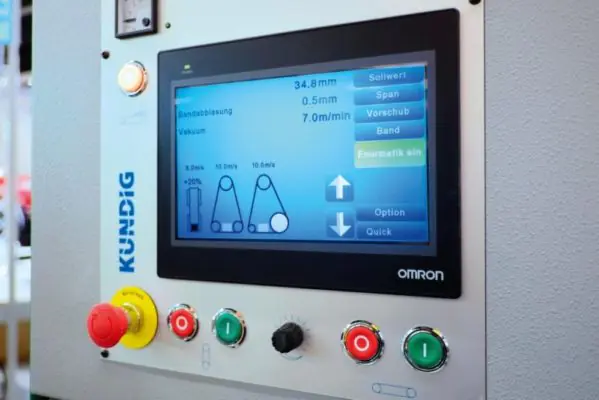 Touch Screen
Operators can choose between an automated and customisable quick start programmes and can manually adjust all the parameters.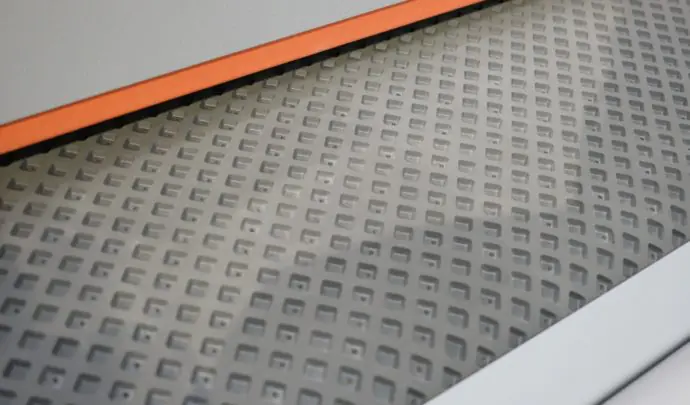 Conveyor Belt
Various types of conveyor belts depending on your application
Vacuum for conveyor is standard on all Brilliant models
For specific applications a vacuum pump power upgrade is available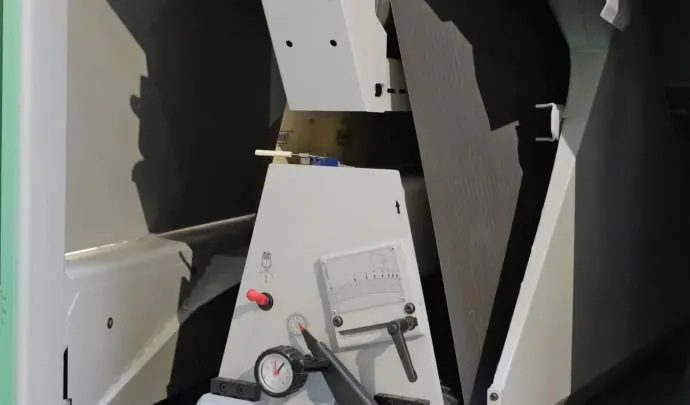 Lacquer Package
Steplessly adjustable sanding belt speed
Belt cleaning with air jets
Extraction ducts
22mm sanding pad segments instead of the usual 35mm ones