Technical Specifications
Voltage / Phase
380V / 3ph
Speed of drive roller
3600 rpm
Sanding belt speed
15 m/s
Extraction ports
1 x 150mm
Vaccum pressure of extraction
1,800 PA
Kundig Uniq

– Versatile, robust, precise

The Kündig Uniq series is the full-fledged basis of Kündig 's product range and shares all features that have helped the edge sanding machine gain it's reputation as a robust, versatile, precision instrument. Part of its extremely solid construction is the oscillating sanding unit, which offers a maximum oscillation range of 90mm/3.5″ and the possibility of motorised pivoting between 90° and 45°. All common edge processing operations can be carried out using the four sanding stations of the Uniq edge sander.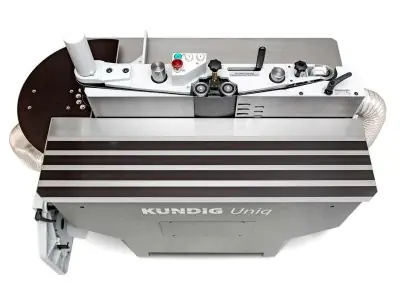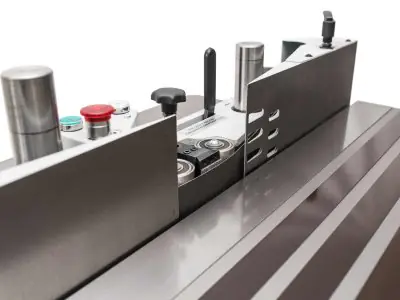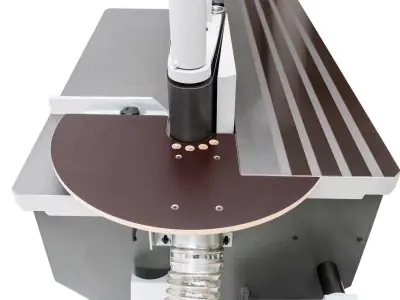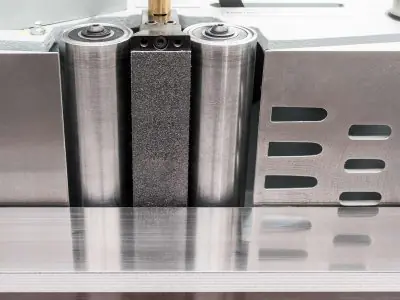 Ingenious Design – The Sanding Unit
At the heart of all Kündig's edge sanding machines is the sanding unit. It offers a whole range of intelligent features. For example, the sanding belt does not oscillate by tilting the belt rollers. Instead, the entire sanding unit moves up and down. The oscillation stroke as well as the oscillation range are simply set by the use of two buttons. maximum oscillation range is a whopping 90mm/3.5″. Thanks to the flexible adjustment and the large oscillation range, sanding belts can be used optimally over their entire width, without any tedious adjustment of the working table height. The oscillation mechanism is driven by a separate motor.

The sanding unit can also be pivoted conveniently by means of a rotary switch. The pivoting mechanism is also driven by it's own motor. The unit can be tilted between 90° and 45°. Thanks to the well thought-out mechanism, full oscillation is always available (at any sanding unit angle) and sanding on both sides is possible, even simultaneously. The different table heights of the front and rear sanding station also ensure that the belt is not used at the same height at the same time. Furthermore, the combination of the pivoting mechanism and different table heights ensures that the distance between sanding unit and worktable remains minimal at any degree of inclination.
The integrated oil damper system, which acts on the tension roller, ensures that belts remain optimally tensioned even if there are differences in length due to manufacturing tolerances or the effects of moisture. The belt runs over a large-area graphite cloth. In order to reduce the wear on the graphite on the abrasive pad to a minimum, a deflection roller is installed to the left and right of it. The belt can also be changed with ease in seconds.
The four Sanding Stations
---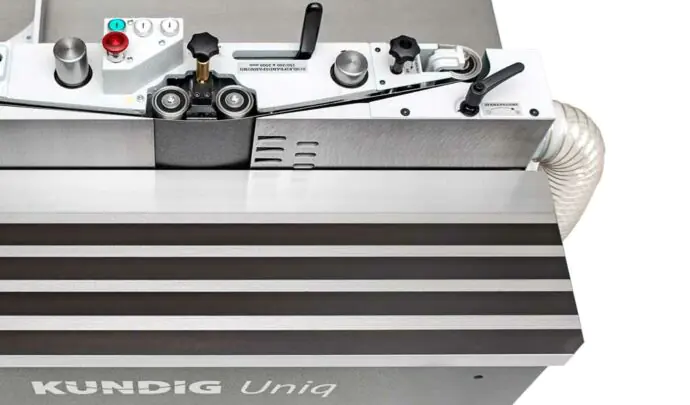 1. Sanding Station, Veneer Station
---
The front sanding station is used for precise calibration of materials and functions like a jointer. The infeed fence is moved by means of a rotary handle in order to precisely adjust the stock removal. The fence is not tilted, it is shifted, which means inlet stop, sanding pad and outlet stop are always parallel to each other. Rounding off of workpieces at their edges is therefore impossible. Fine adjustment of the sanding pad for grain compensation or zero setting between the stops and pad is possible via a handwheel. The solid worktable is lined with sliding surfaces in this side.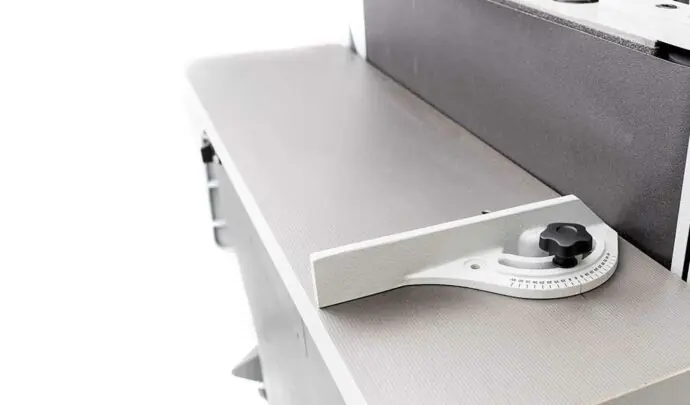 2. Sanding Station, Wood Station
---
The Wood Sanding Station is ideally suited for sanding flat, angled chamfered or router rounded workpieces. Here too, the entire sanding unit offers the same pivoting and oscillation range. The belt runs over it's entire width along a graphite surface with cooling properties. A rotating fence is also provided on the solid wood side for the production and sanding of mitred work pieces.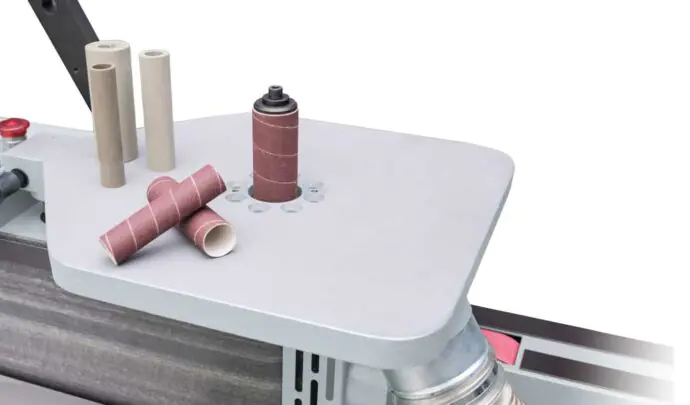 3. Sanding Station, Top Sanding Station
---
With the optionally available top sanding station, very fine internal roundings as well as holes in workpieces can be sanded with the bobbin device. The solid aluminium table is quickly mounted and can be attached to the side of the edge sander when not in use. The table has holes for dust removal. As the sanding bobbin is part of the sanding unit, you also benefit from the total oscillation path of up to 90mm. The mandrels ca be equipped with sanding bobbins of different diameters: ∅25mm (1.0″), ∅30mm (1.2″), ∅40mm (1.6″), ∅45mm (1.8″) x 100mm (4″)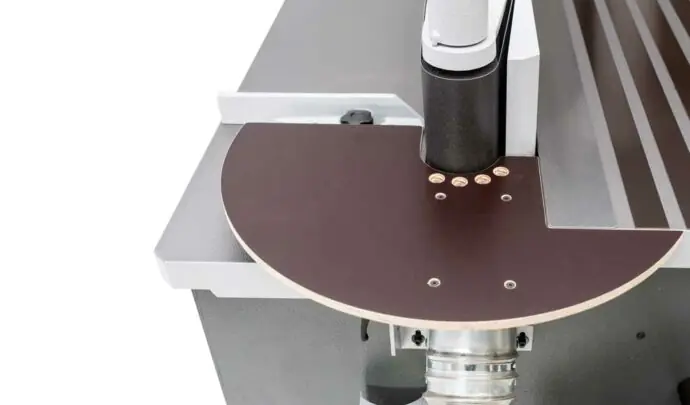 4. Sanding Station, Drive roller Station
---
On the optionally available folding semi-round table, larger internal curves and curved parts can be precisely sanded on the rubber-coated drive roller. The semi-circular table can be folded up in seconds and connected to the dust extraction system. The diameter of the drive roller is 90mm. Sine this station is part of the drive roller, a hundred percent squareness is always guaranteed. This is in contrast to other models where the deflection roller is used for this purpose, which is always slightly tilted due to it's oscillation or belt centering function. The large oscillation range of a maximum 90mm/3.5″ also applies to this sanding station.
Optional Extras
---
Prices supplied on application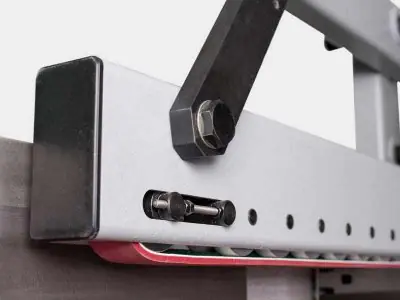 Upper Feed
---
Instead of pressure rollers, the Upper feed belt can facilitate the sanding of smaller components
This option is available for Uniq-S, Standard or Flash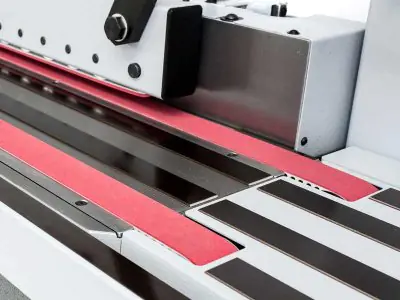 Additional lower feed belt
---
For extra wide workpieces an Additional Lower Feed Belt can be provided
This option is available for Uniq-S, Standard or Flash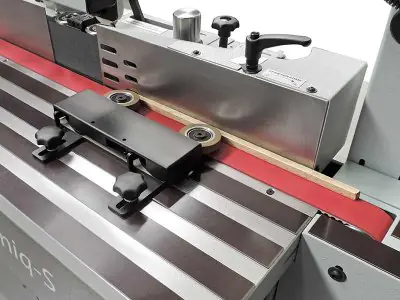 Glazing Bars
---
A special device simplifies the sanding of smaller components and Glazing Bars
This option is available for Uniq-S or Uniq
Grooved Inlet Platen
---
The grooved inlet platen allows the sanding of edges with overlapping veneers
This option is available for Uniq-S, Flash or Uniq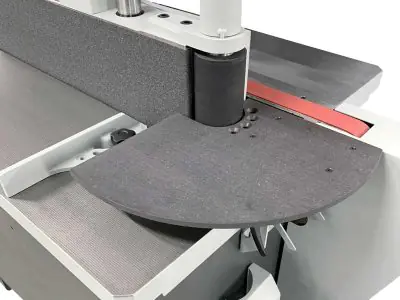 Semi Round Table
---
Semi round table for sanding curved pieces against the rubber covered driving roller
This option is available for Uniq-S, Uniq or Flash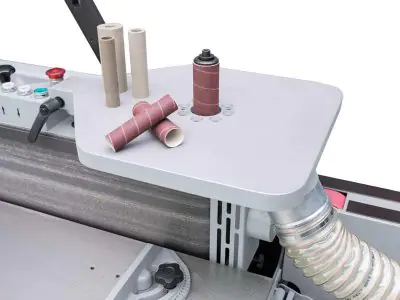 Extra table
---
Extra table with mandrel and abrasive bobbins for external and internal shapes
This option is available for Uniq-S, Uniq or Flash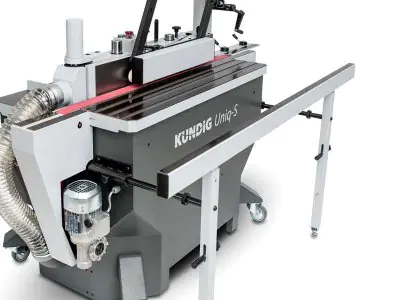 Telescopic support rail
---
Easy handling of large panels thanks to a Telescopic support rail
This option is available for Uniq-S, Uniq or Flash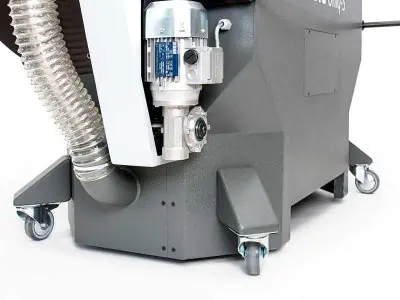 Transport Wheels
---
Increased flexibility and movability thanks to four transport wheels
This option is available for Uniq-S, Uniq or Flash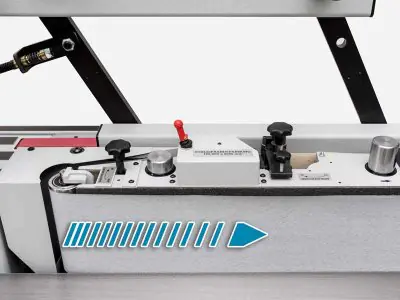 Steplessly abrasive belt speed
---
Steplessly abrasive belt speed for extremely sensitive surfaces or material with a low melting point.
This option is available for Uniq-S, Standard or Flash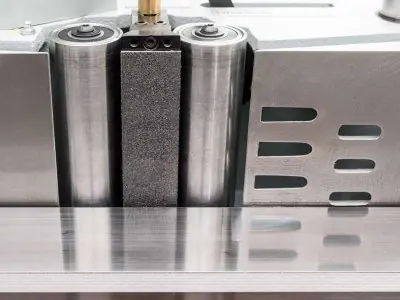 Sanding pad inserts
---
Special sanding pad inserts are available, such as an extra hard sanding pad for extended sanding of solid wooden edges or a ceramic sanding pad for heavy calibration tasks
This option is available for Uniq-S, Uniq or Flash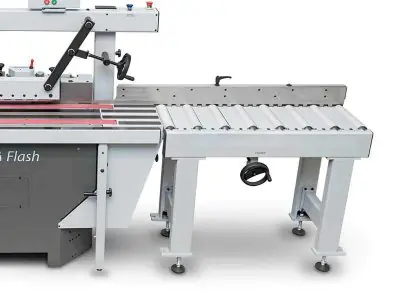 Working table extensions
---
Different handling and working table extensions are available, even custom versions
This option is available for Uniq-S, Uniq or Flash
More from Kündig
---
Kündig are sanding experts, they have wide range of sanding machines. They include:
Wide Belt Sanders
Kündig Perfect
Kündig Brilliant series
Kündig Master
Edge Sanders
Kündig Uniq
Kündig Uniq-S
Kündig Flash
Browse Kündig Sanders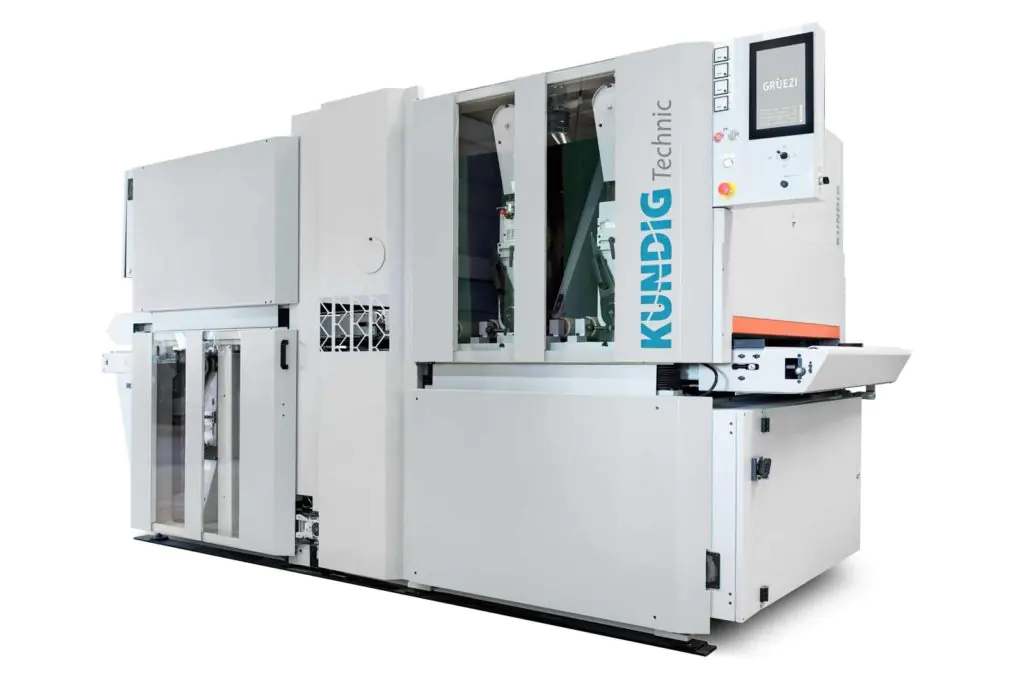 The machine body integrated system features a motor driven rubber conveyor belt with variable feed speed (3-15 m/min, 9-45 ft/min). Handling is incredibly easy and it's perfect for sanding of production batches and assisting with sanding (or even production) of chamfered and angled edges. It also helps when sanding large size work pieces. When equipped with the optional upper feeding belt (instead of standard pressure rollers) even very small pieces can be sanded with ease too. Actually, all of the mentioned things can be done with the regular Uniq edge sanding machine model as well. But the feeding system is such a great help that pretty much all of our Uniq-S customers wouldn't want to miss
Need assistance or Expert Advice?
We pride ourselves in offering a friendly and professional service