Technical Specifications
MACHINE TYPE
Dust Extraction Units
RECOMMENDED BREAKER SIZE
30 Amps
AIRFLOW (TRADITIONAL METHOD)
3831m3/hour
MAX. STATIC PRESSURE
285mm in water (11.2″)
REMOTE CONTROL INCLUDED
Yes
INLET DIAMETER
1x 200mm or 3 x 100mm (1 x 8″ or 3 x 4″)
CANISTER FILTER TYPE
1 Micron
DRUM COLLECTION BAG LAYFLAT SIZE
960 x 960mm (38″ x 38″)
IMPELLER
390mm (15.5″) Steel radial Fin
BAG HOLD DOWN
Metal Insert
FILTRATION EFFICIENCY
99.7% @ 1 Micron
DECIBEL READING
82dB(A) @3m
FILTER COLLECTION BAG LAYFLAT SIZE
660 x 620mm (26″ x 24.5″)
DIMENSIONS
1168 x 686 x 2007 mm
VOLTAGE / PHASE
240V / 1ph
6FT. 3 WIRE CORD WITH NO PLUG
Yes
AIRFLOW (REALISTIC METHOD)
2209m3/hour
DRUM COLLECTION CAPACITY
209 Litre octagonal drum
CANISTER CLEANING
Manual crank 270°
WEIGHT
140kg (170kg shipping)
The c|flux:3 comes standard with a 1 micron canister providing filtration of 99.97% of particles between the sizes of 0.2 to 2 micron; features 109 sq/ft. of polyester spun bond pleated filter to ensure maximum airflow. 270 deg; manual clean comes standard.
Can be equipped with an optional auto clean kit either at the time of purchase or as an add-on later.
The auto clean kit includes a smart sensor that detects a rise in static pressure indicating the filter is getting clogged and automatically activates the cleaning procedure.
An ingenious lift system quickly moves the drum off the floor and seals against the drum lid, avoiding the need for a flex hose.
This design allows for much better portability as you are not forcing four wheels into the floor whilst pushing the unit.
Options Available: 
Drum bag 38″x38″ (pack of 10) – £24.00
Cartridge filter bag (pack of 10) – £13.00
Auto cleaner for C flux 3 – £420.00
Performance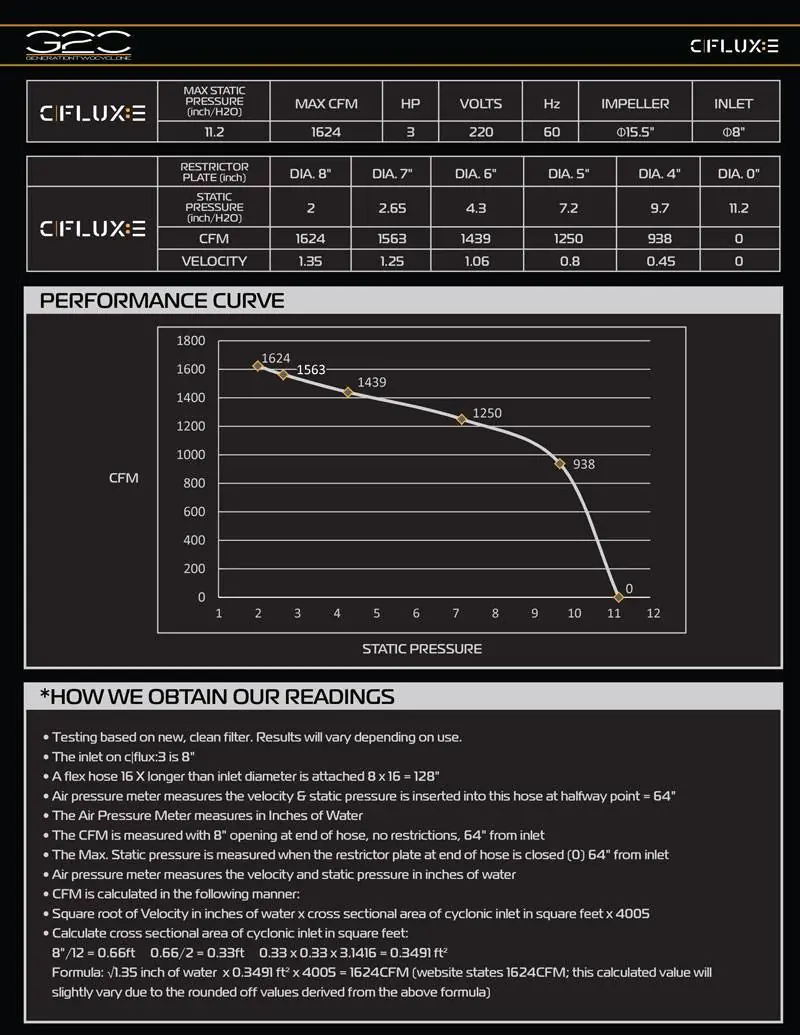 Need assistance or Expert Advice?
We pride ourselves in offering a friendly and professional service