Technical Specifications
MINIMUM PANEL LENGTH
170mm
DUST OUTLET SIZE (MM)
100mm
MINIMUM EDGE THICKNESS
0.4
MINIMUM PANEL THICKNESS
8mm
OVERALL DIMENSIONS
L 3,200 x W 1,250 x H 1,200 mm
BANDER TYPE
Hot Melt/pre-mill
MAXIMUM EDGE THICKNESS
3mm
MAXIMUM PANEL THICKNESS
45mm
VOLTAGE / PHASE
415V / 3ph
OAV 350M EdgeBander
---
Allows for stable and reliable working conditions which will raise the quality of your products while also saving time.
In coils up to 3mm thick, and strip up to 3mm thick, this affordable machine is equipped with 1.2KG capacity glue tank, auto gluing, edge cuting, pre-milling end trimming, flush trimming and scraping, and buffing functions.
Featuring a user friendly adjustment with numerical indicators as well as an LCD display for temperature control, 9M feeding speed.
This machine has a panel capacity of 45mm, but please note the STANDARD PRE MILL CUTTERS ARE 35MM.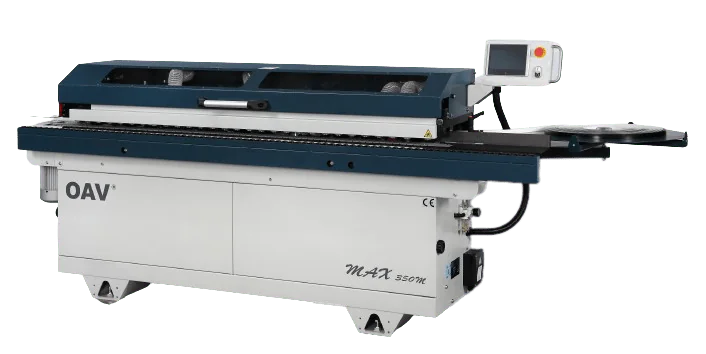 Features
---
9m/min feed speed
8-45mm panel thickness
8-32/45mm pre milling height depending on cutters
up to 2mm premill
0.4-3mm edging thickness
Min panel width: 100mm
Min panel length: 170mm
4088mm x 1003mm x 197xx overall size
700 KG
Pre Heating
---
Heated infeed fence helps with glue adhesion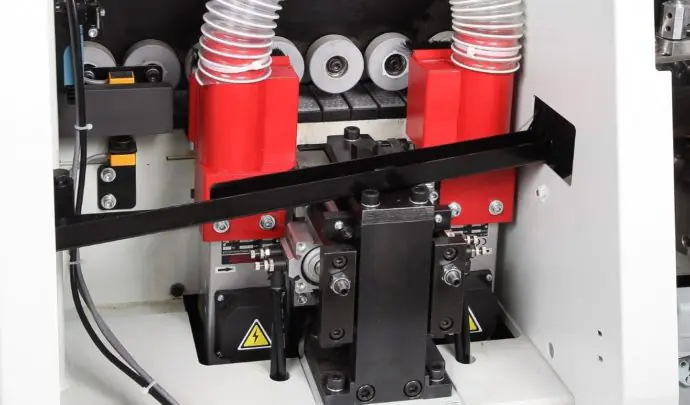 Pre Milling
---
Removes up to 3mm from the panel edge using diamond tipped cutters. Eradicating chips from saw blades and poorly set scribe saws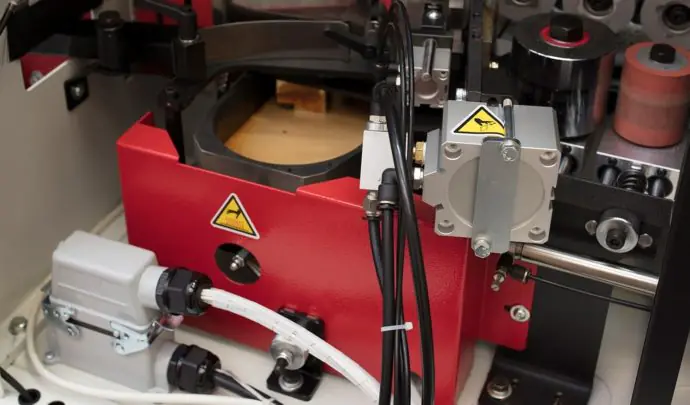 Hot melt glue pot
---
Teflon coated for easy maintenance with 1.2KG storage capacity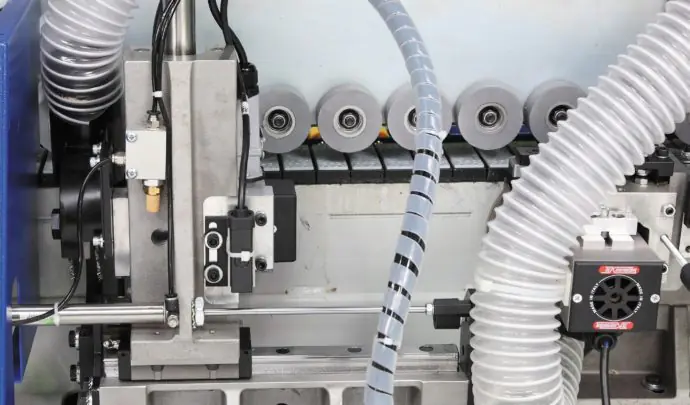 End trimming
---
Uses a high frequency 12,000rpm motor mounted on high precision linear bearings
Radius trimming
---
Fully adjustable to create either a square flush edge or radius edge. 2mm radius fitted as standard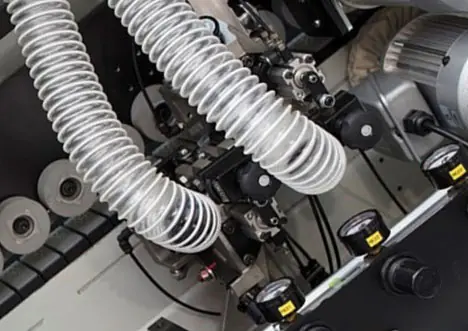 Radius scraping
---
Top and bottom super sharp scrapers that calibrate the radius, cleans glue and removes cutter marks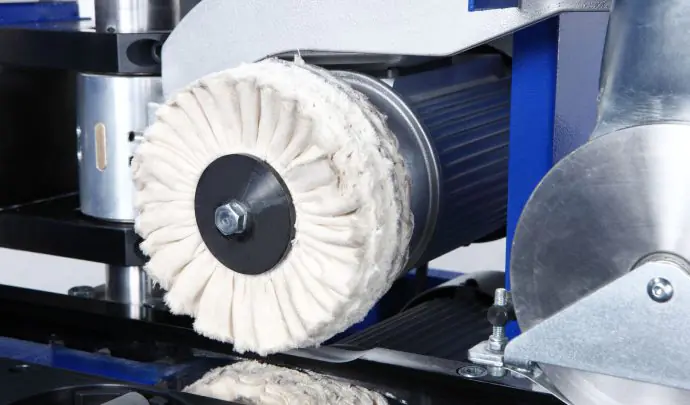 Buffing Unit
---
The Buffing unit removes traces of glue and discolouration
Browse OAV Edgebanders
---
We have been working with OAV for over 5 years. We're extremely impressed by the build quality of their woodworking machinery. We stock OAV Edgebanders and Bandsaws. Our OAV Edgebander range consists of:
OAV 330 Hot Melt Edgebander
OAV 350M Pre Milling EdgeBander
OAV 350A Pre Milling EdgeBander
OAV 370M Corner Rounding EdgeBander
OAV 370P Automatic EdgeBander
OAV 370P Automatic Corner Rounding EdgeBander
OAV 570P EdgeBander
Browse OAV EdgeBanders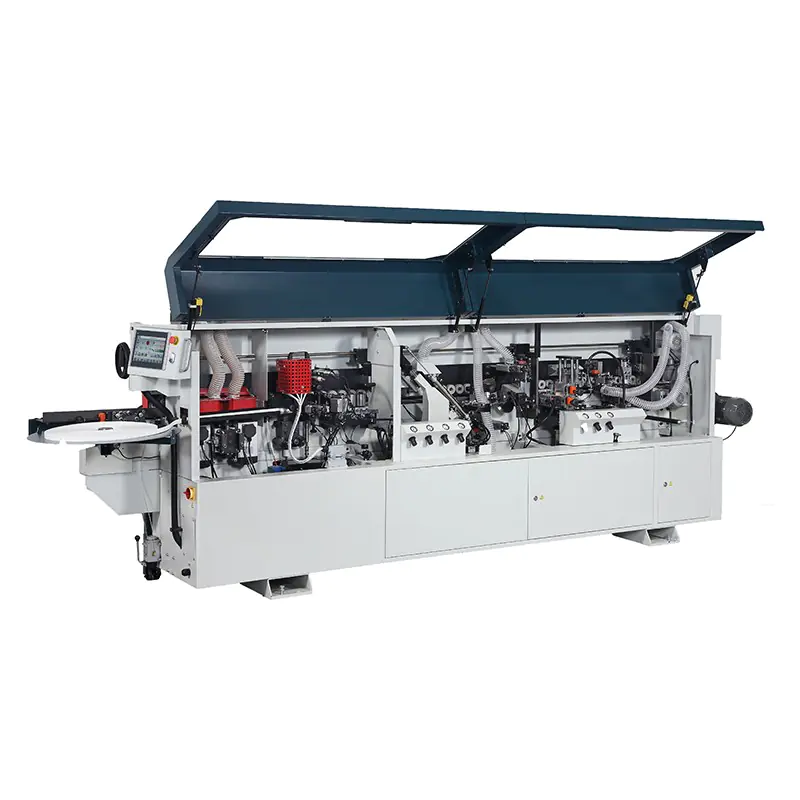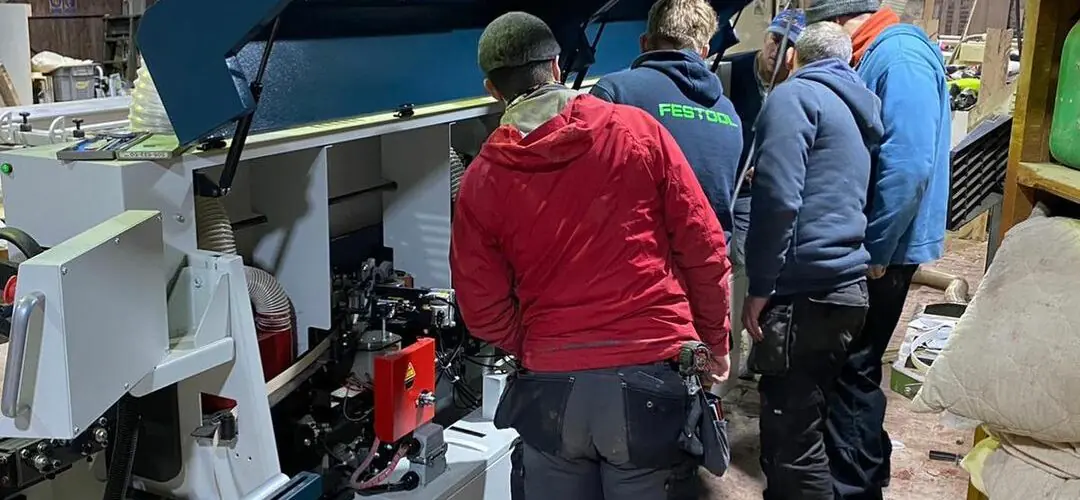 Delivery, Commission and Product familiarisation provided
---
As long as you have a forklift to unload the machine we can deliver and commission your Edgebander on the same day. On top of delivery and commission our engineers will familiarise you and your staff on how to use the machines.
Book a Demo
OAV 350M Edgebander Footprint