Technical Specifications
VOLTAGE / PHASE
415V / 3ph
PANEL THICKNESS
8 – 45 mm
WORKING TABLE HEIGHT
960 mm
DIMENSIONS
LxWxH – 3731x720x1636 mm
CORNER ROUNDING MOTOR
12,000 rpm
EDGE THICKNESS
0.4 – 3 mm
MINI. PANEL LENGTH
170 mm
EXTENSIBLE SUPPORT WIDTH
560 mm
PRE MILLING SPEED
12,000 rpm
PRE-MILLING MOTOR
12,000 rpm
OAV 370P Automatic Edgebander
---
The 370P comes equipped with a user friendly touch screen control.
The PLC parameter setting & operating controls ensure reliable and stable working conditions to provide consistent * high quality results. This is the ultimate edgebanding solution to optimise your investment and take your production output to the next level.
The fully automatic linear edgebanding machine makes a perfect combination for the lamination of plates and edge strips. High-end product 570P combined with automatic solid wood edge strips, transparent glue on the plastic bucket is the best weapon for the production of fire doors.
The precision sliding table saw solves the problems of traditional cutting board size errors and cracks. Accurate cutting shortens the working hours, whether it's a small or large variety of cutting, it can quickly meet the needs of customers orders.
OAV 370P EdgeBander Features
---
Edge feeding for coiled materials
Operating Panel with LED Keyboard
End cutting unit
Flush trimming
Corner rounding unit
Scraping/ Radius scraping unit
Heavy duty chain feeder
Pre-milling unit
Glue pot
Guillotine shears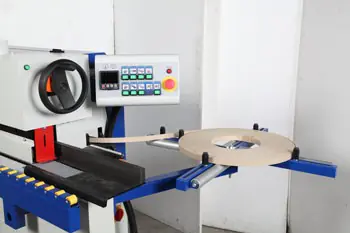 Operating Panel with LED Keypad
---
Glue temperature setting, Choose and disengage any units individually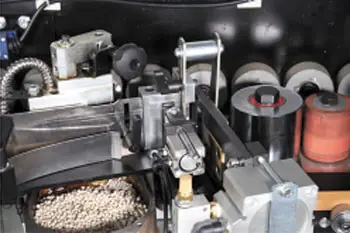 Guillotine Shears
---
Coiled material up to 3mm in thickness can be trimmed by the guillotine shears. Swing design guillotine guillotine shears would not pull edge.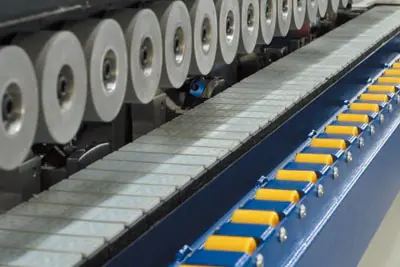 Heavy duty chain feeder
---
The steady work-piece feeding mechanism is compromised of a chain and set of drive rollers, which will leave no scratches on the work-piece surface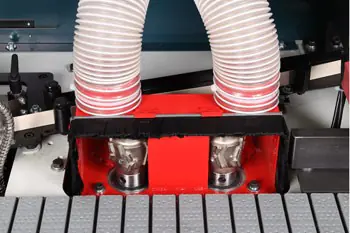 Pre-Milling Unit
---
Two diamond milling heads ensure the edge of the work-piece is absolutely straight to the material of edge being glued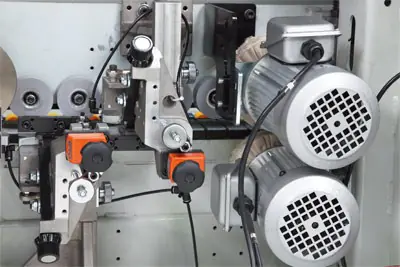 Buffing Unit
---
The buffing unit leaves a super finish on ABS and PVC edging, and removes any discoloration on the edges, which is especially noticeable when working with dark edge material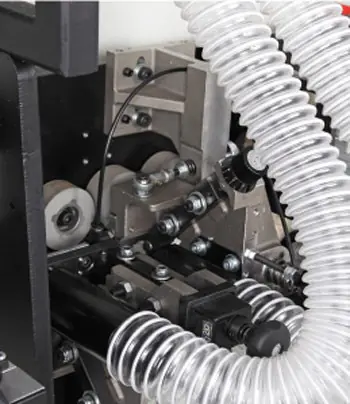 Scraping Unit- Radius Scraping Unit
---
The scraping unit fine tunes the edge radius and removes excess glue.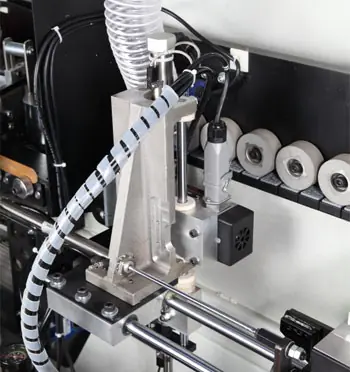 End cutting Unit
---
It is mounted on high precision linear bearings, which ensure perfect cutting results, and meets all challenges for different types of edge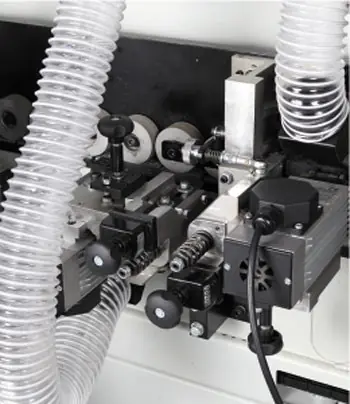 Flush Trimming
---
The adjustment of the settings from flush trimming for thin edges, as well as radius trimming for thicker edges, is quick and easy. TC 2mm radius tooling is included as standard. With dust collection design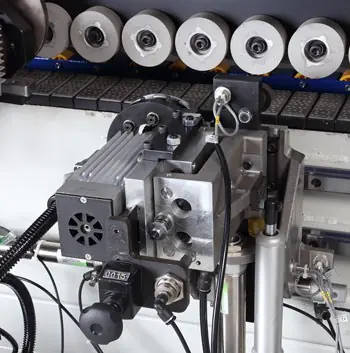 Corner Rounding Unit
---
The unique and innovative design of OAV's corner rounding unit will allow you to get perfect corners of your panel every time without any cutter jointing marks. All the essential functions of trimming are programmed by the operator and executed at high speed to an exceptional degree of accuracy
Browse OAV EdgeBanders
---
We have been working with OAV for over 5 years. We're extremely impressed by the build quality of their woodworking machinery. We stock OAV Edgebanders and Bandsaws. Our OAV Edgebander range consists of:
OAV 330 Hot Melt Edgebander
OAV 350M Pre Milling EdgeBander
OAV 350A Pre Milling EdgeBander
OAV 370M Corner Rounding EdgeBander
OAV 370P Automatic EdgeBander
OAV 370P Automatic Corner Rounding EdgeBander
OAV 570P EdgeBander
Browse OAV EdgeBanders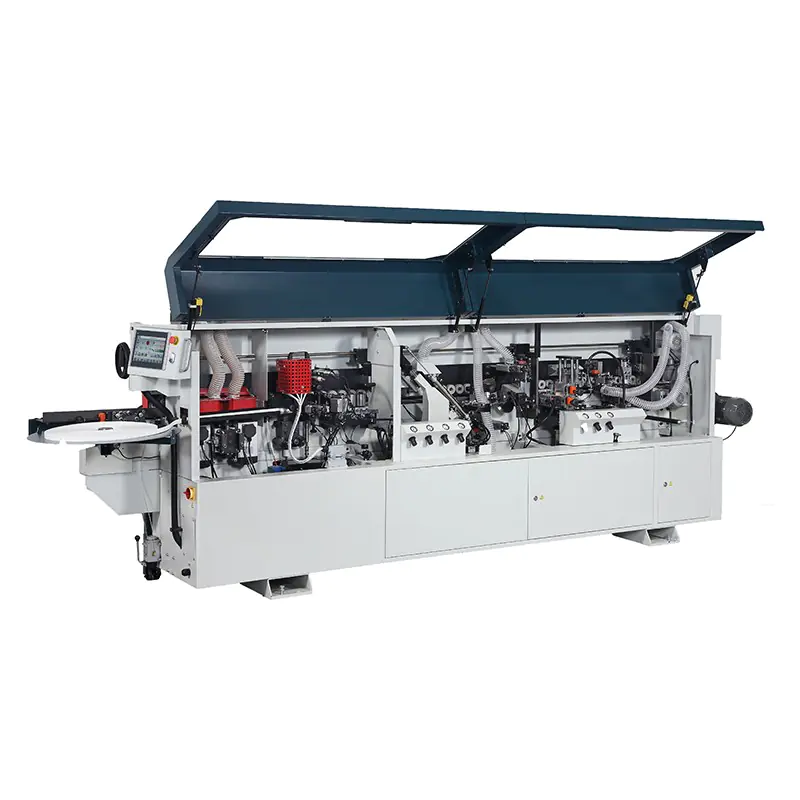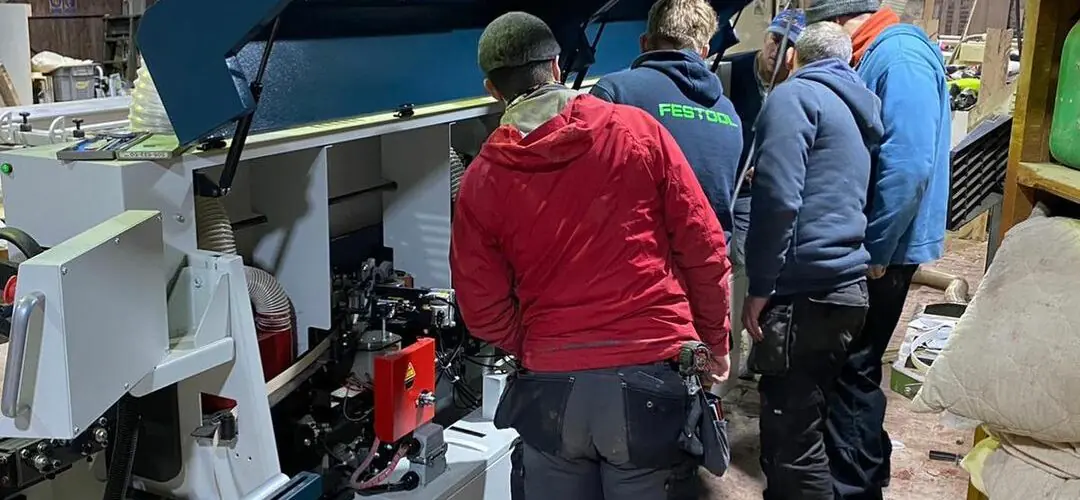 Delivery, Commission and Product familiarisation provided
---
As long as you have a forklift to unload the machine we can deliver and commission your Edgebander on the same day. On top of delivery and commission our engineers will familiarise you and your staff with the machine.
Book a Demo
OAV 370P Edgebander Footprint
Need assistance or Expert Advice?
We pride ourselves in offering a friendly and professional service