Technical Specifications
SERVO DRIVE MOTOR CLOSING LOOP
11 Nm
ARM LENGTH
600 mm/ 200mm X 100mm
POWER REQUIREMENT
230 volt 50 HZ
MAX SPEED
600 mm/ 200mm X 100mm
Salvastop 100
---
SalvaStop 100 is the evolution of the numerically controlled length stop and pushing positioning system. SalvaStop 100 to save your labor costs, productivity waste and measuring human errors. Forget and stop to use the tape meter.
The Beam
New technological concept anodised aluminium beam: section 100x100mm , reinforced big thickness of the profile edge. 1 Flat fence side to favour the sliding of the wood on the guide avoiding wearing and dust problems. High capacity pusher carriage thanks to considerable dimensions.
Electronic Hardware
Servodrive electronic moving motor in intergrated version allows simple, long life, compact and maximum efficiency. Motor in closing loop controlling and not losing every moment the position.
S-PAD and Software
SALVASTOP Exlusive software easy to use thanks to immediately understandable and effective graphics, complete, powerful, and flexible. Complete with 5 different sections and 2 different modes. "STOP" or "PUSH". 7″ s-PAD touch colour screen, very good position for reading and programming. Software of tele-service via internet included and installed.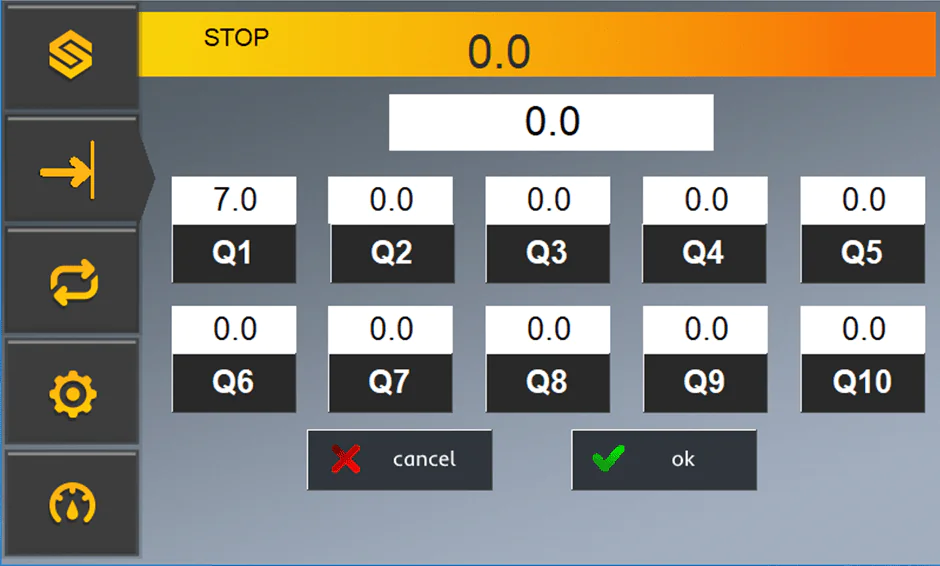 Options
S-STOP 100 2400/3000     Working Length 2.4mt     Total Length 3mt     £7,120
S-STOP 100 3400/4000     Working Length 3.4mt     Total Length 4mt     £7,675
S-STOP 100 4400/5000     Working Length 4.4mt     Total Length 5mt     £8,230
S-STOP 100 5400/6000     Working Length 5.4mt     Total Length 6mt     £8,785
S-STOP 100 6400/7000     Working Length 6.4mt     Total Length 7mt     £9,350