Technical Specifications
RATING INPUT
1300W (1 3/4hp)
POWER TRANSFER
Single V-Ribbed Band 142J FJ
DUST EXTRACTION OUTLET
102mm
BLADE / BORE
250mm / 30mm
OVERALL DIMENSIONS
1663 mm x 1652 mm x 1080.9 mm
DUST EXTRACTION MIN. AIRFLOW
934 m3/h
RIP CAPACITY WITH FENCE
914.4 mm Right, 431.8 mm Left (1,320.8 mm optional)
MITRE SLOT
19 mm to 23 mm T Slot (3/4″ to 1″)
THROAT PLATE DIMENSIONS
372 mm x 104.5 mm x 13 mm
BLADE TILT
45° Left, 3° Arbor Adjustment
FENCE TYPE
Sliding Cam Action Fully Adjustable
THROAT PLATE TYPE
Professional Square Zero Clearance
FLOOR TO TABLE HEIGHT
887mm
VOLTAGE / PHASE
1ph or 3ph
FULL LOAD AMPERAGE
7.5 Amp
PLUG INCLUDED
13 Amp UK 3 Pin
FENCE FACE DIMENSIONS
670 mm x 80 mm x 17 mm
We are sure the newly redesigned Fusion line up will not only impress but exceed your expectations
The first thing that will catch your eye about the Laguna Fusion2 Table Saw is the large precision ground mirror finished tabletop which allows excellent work piece support.
For Europe we have added a 500mm rear take off table for even more support, if not in use this can be easily taken off and stored flat.
The classic 'T Style' rip fence which is exceptionally smooth moving and rock solid locking is a pleasure to use with an easy cam lock handle and will guarantee accurate cuts up to the 36″ standard capacity.
Laguna have also completely redesigned the arbor controls so that the rise/fall/tilt handles give a lovely buttery smooth blade movement courtesy of a 2:1 ratio gear box.
Dust extraction is a crucial part of any machine for operator safety and machine longevity and for Europe we have specified a crown guard hose in conjunction with Laguna's newly designed interior shrouded dust collection.
The heart of this saw is the powerful 1 3/4Hp braked motor which is mounted onto the powder coated cabinet base via solid aluminium trunnions.
This mounting method ensures the table top is left unstressed by the motor weight and guarantees a perfectly flat working surface.
The substantial professional 'zero clearance' throat plate is suitable for all blade angles and is supplied as standard, it has fine adjustment grub screws to precisely line up to the table surface and is also easy to remove.
For further convenience, a wheel kit is integrated within the base and there are storage points for all the accessories.
Supplied with a high quality mitre fence that is hyper-accurate when travelling in the T slots.
There is a 250mm 40T blade supplied as standard. Finally, the quick release riving knife makes blade changing easier and safer.
Options Available:
52″ Rip extension – £219.00
New 2022 Fusion2 table saw
---
Brand new 2022 Laguna Fusion2 table saw
Front digital readout for angle of saw blade
Dual fence indicator
Mitre Fence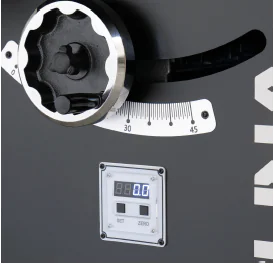 Blue LED digital readout
---
Blue LED digital readout for faster indication when making bevel angled cuts. Read to a 10th of a degree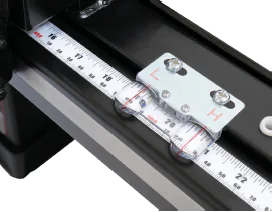 Dual hairline readout lines
---
Dual hairline readout lines to help make working easier no matter whether the sub-fence is in the high or low position
Mitre Fence
---
USA premium mitre fence with rack and pinion movement, indents for common angles and T-slot in front face for attaching stops or jigs
Laguna Fusion 3 unboxing & build
---
Laguna Fusion 2 & 3 available to view in our showroom
Large 3HP motor on 220V
Large industrial cabinet
Solid cast iron trunnion
Electromagnetic contactor
Professional Arbor controls
More from Laguna woodworking tools
---
Firmly established as a premium brand within the USA and other major countries, Laguna have forged a reputation for market leading innovation and premium build quality.
Laguna Lathes
Laguna bandsaws
Laguna table saws