Technical Specifications
DISTANCE BETWEEN SPINDLES
32mm
WORKING AIR PRESSURE
6-7 Bar
MAX DIMENSIONS OF THE WORKING PIECE
1142 x 3000 mm
DISTANCE BETWEEN FIRST AND LAST SPINDLE
896mm
VOLTAGE / PHASE
415V / 3ph
Maggi Single Head Boring System 29
Innovative and effective tool-locking system that allows quick fastening of the drills directly on spindles No need for chucks: You save money and time Drills are more steady and precise.
Fast drill assembly: this device reduces by 90% the stroke of the boring head with regard to the different length of the drills; and consequently speed up the working cycle.
Rear fence max stroke 300 mm for automatic match of two wooden panels both in horizoantal and veartical position
Fitted to install dust collection system
Front electical drives according CE safety regulations with no voltage release magnetic switch protecting the motor (volt 2.4), emergency safety device
Main switch can be locked
Working table made in cast iron and MDF antiscratch
Patented Spyral System, device for programming and boring depth adjustment
N°2 patented safety clamps
Pneumatic head-rotation from 0° to 90° with lock and stop reference in any position
Adjustable fences on the table with digital counter for decimal shifting adjustment
Digital counter (decimal) for regulation for adjustment of drills-height from the table
Fixed stops for hinges at 37 mm
Device to automatically change the vertical and horizontal boring depth (7 mm)
Stackable
Aluminium fence 1.500 mm with 2 stops
Reference fence for exact setup of stop on
Aluminium fence 3.000 mm with 4 stops
Long fence 704 mm
Fence extention 1000 mm
Reference fence for rear fence parallelism
Extra stop for aluminium fence 500 mm
Stop reference pin for line boring
Fences for boring of frames at 45° and 90°
Special block to lift the clamps up to 140 mm top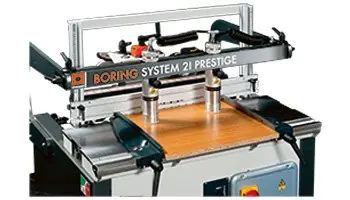 SIDE REFERENCE FENCES
Adjustable cast iron fences on a metric scale thanks to a magnify glass and nonius.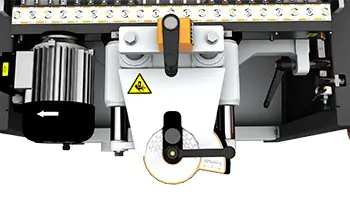 PATENTED SPIRAL SYSTEM
Device for boring depth adjustment, allowing an easy and quick set-up on a millimetric scale according to the different drill lengths.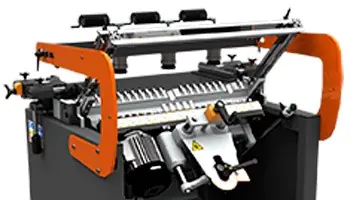 PNEUMATIC HEAD ROTATION
With lock and stop reference from 0° to 90° at any angle.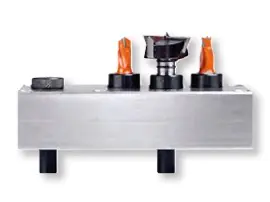 Option: Head-unit for hinges – Blum, Hettich, Grass, Salice.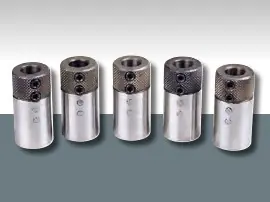 Option: Extra quick-change bushes.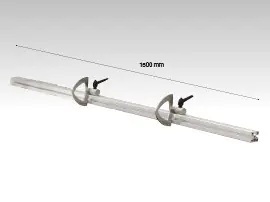 Option: Right and/or left aliminium fence with 2 stops.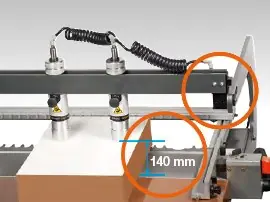 Option: Blocks to lift clamps up to 140mm from table.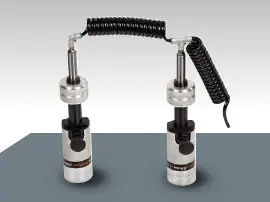 Option: Extra clamping unit.