Technical Specifications
Sliding table dimensions
3200 x 395mm
Extension table (rear)
952 x 896mm
table size
1,500 x 1726mm
Max cutting height at 90°
90mm
Max cutting height at 45°
64mm
Scoring blade speed
8,000 RPM
cutting width adjustment
motorised
Height adjustment (main blade)
motorised
Cast Iron table dimensions
548 x 896mm
Extension table (front)
830 x 320mm
Main saw blade Max. Diameter
305mm
Main blade speed
3000 / 4000 / 5000 RPM
Scoring blade motor
0.75kW
Tilt adjustment (main blade)
motorised 90° – 45°
Extraction outlets (optional)
120mm / 65mm (120mm / 102mm)
OAV A405E 3.2M Panel Saw
---
The machines of the Industrial Series are excellent for large productions, and are designed to operate continuously for 2-3 working shifts within a 24-hour period, which translates to more effective production. The Industrial Series machines are loaded with features that ensure that large amounts of panels can be processed, both faster and easier than ever.
The A405E/NC Sliding Table Saw has multiple functions for high accuracy cutting of sheet materials for the production of kitchen cabinetry, furniture, millwork operations, and more. The NC rip fence provides the operator with the added convenience of setting the rip width automatically through an eye level control. This saves time while providing a high level of accuracy and repeatability. The 3200mm and 3800mm sliding table is made from a precision aluminium extrusion and runs on precision linear guide rails.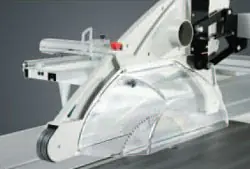 Cyber Overhead Guard (Optional)
---
The CE overarm blade guard is supplied which can be easily pivoted out of the way to access the saw blades. Dust port 45 for a clean work environment. The guard can be quickly raised lowered into position on a THK linear guide.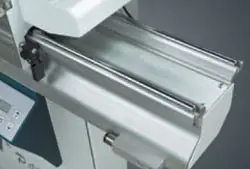 Carriage
---
The sliding table is made out of a heavily ribbed aluminium extrusion which is anodized to eliminate the making of your panel and ensure a long surface life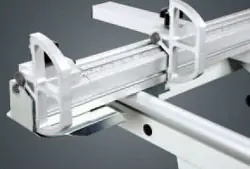 Crosscut fence
---
Heavy duty crosscut fence can be positioned at the front or back of the outrigger for operator convenience.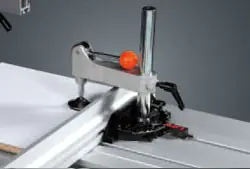 Hold down Clamp
---
Quick and secure locking wood clamp. User-friendly design with 0° – 45° adjustment.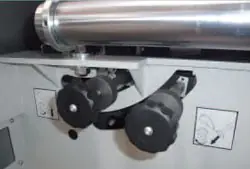 Scoring Adjustment
---
User-friendly design with reliable and accuracy
Need assistance or Expert Advice?
We pride ourselves in offering a friendly and professional service