Technical Specifications
Dust suction outlet
100 mm
Saw rotation speed
4500 RPM
Diameter Saw blade and bore
300 x 30 mm
Cutting depth at 90°
100 mm
Cutting depth at 45°
70 mm
Saw dimensions of cast iron table
1150 x 350 mm
Dimensions Sliding table
2200 mm (2800 option) x 320 mm
Saw cutting length
2500 mm (3100 option)
Saw cutting width parallel fence
925 mm
Saw Scoring blade
120 x 20 mm
Motor Power
4.85 kW / 6.6 HP
PT cutter block rotation speed
5200 RPM
Spindle Rotation Speed
2900 / 4000 / 6000 / 7500 RPM
Diameter spindle arbor
30 mm
Saw capacity spindle arbor
120 mm
Spindle table opening dimensions
180 mm
Motor Power
4.85 kW / 6.6 HP
PT Total length planer tables
1800 mm
PT Height capacity thicknesser
230 mm
PT Diameter cutter block
70 mm
PT Knives dimensions
410 x 25 x 3 mm
PT Planer Thicknesser width
410 mm
PT Motor Power
4.85 kW / 6.6 HP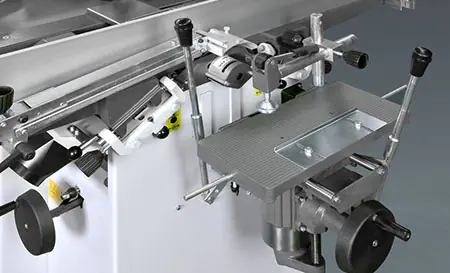 Morticer
---
The morticer, easy and simple to detach, is operated by 2 detachable levers and is equipped with a 2-jaws chuck.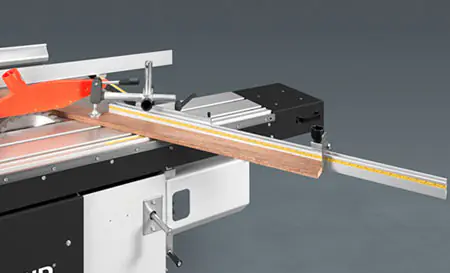 Mitre Fence
---
The mitre fence and stop on the sliding table is equipped with an excentric woodclamp. Exact angles can be set and secured.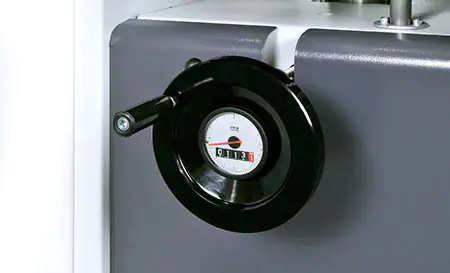 Handwheel
---
Handwheel with integrated analogue read out for thicknesser height.

NEED ASSISTANCE OR EXPERT ADVICE?
We pride ourselves in offering a friendly and professional service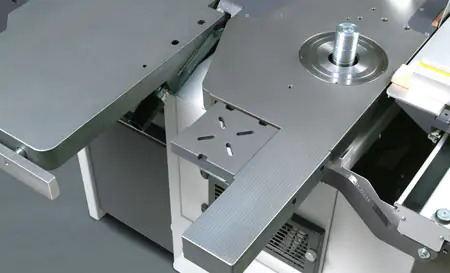 Support Table
---
Cast iron power feed "fold away" support table so no need to take it off each time.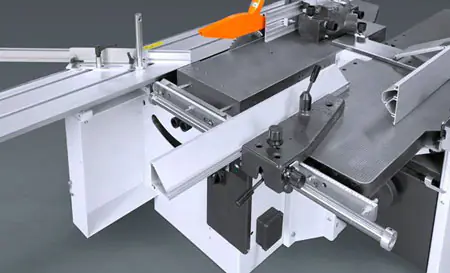 Parallel Saw Fence
---
Parallel saw fence, cutting width 900 mm.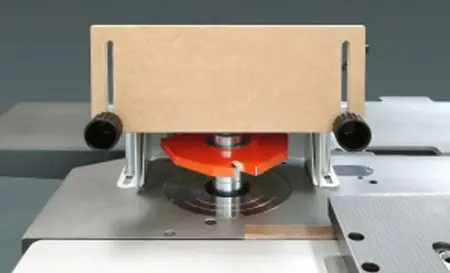 Safety Hood
---
Enables you to safely execute all tenoning work and makes the machine more versatile.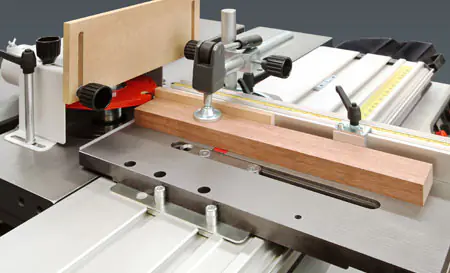 Tenoning Table
---
The tenoning table is made of grey cast iron and is equipped with a anodized 1450 mm long sturdy fence.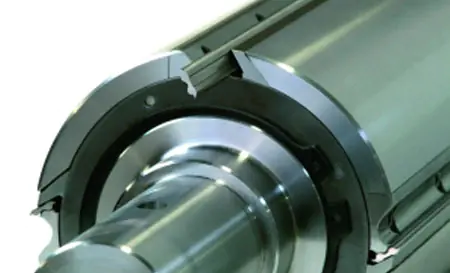 Tersa
---
"TERSA" cutter-block with 3 reversible knives, provides quick precise setting of the knives.