Technical Specifications
Working table height
960mm
Extensible support width
560mm
Packing Size
3960 x 720 x 1748mm
Extraction outlets
5x 125mm
Weight Net / Gross
905KG / 1190KG
OAV Rapid Edge Pro Edgebander
---
Look no further than the RapidEdge Pro edge bander! Our top-of-the-line solution is designed to make edge banding a breeze. With its advanced technology and user-friendly interface, the RapidEdge Pro can apply edge banding to your projects in record time, without sacrificing quality or accuracy. Its compact size and easy-to-manoeuvre design makes it the ideal edge banding solution for use in any workshop or manufacturing setting.
Rapid application: The RapidEdge Pro can apply different thickness of edge band from 0.5 mm, 1 mm to 2 mm to your projects with rapid changeover speed allowing for optimal production output.
Precision accuracy: With its advanced trimming system, the OAV RapidEdge Pro Edgebander ensures that your edge banding is perfectly aligned and trimmed every time.
Easy operation: The RapidEdge Pro's intuitive interface makes it easy for anyone to operate, regardless of skill level or experience.
Durable construction: Our machine is built to last, with sturdy components that can withstand the rigors of daily use.
Floor Plan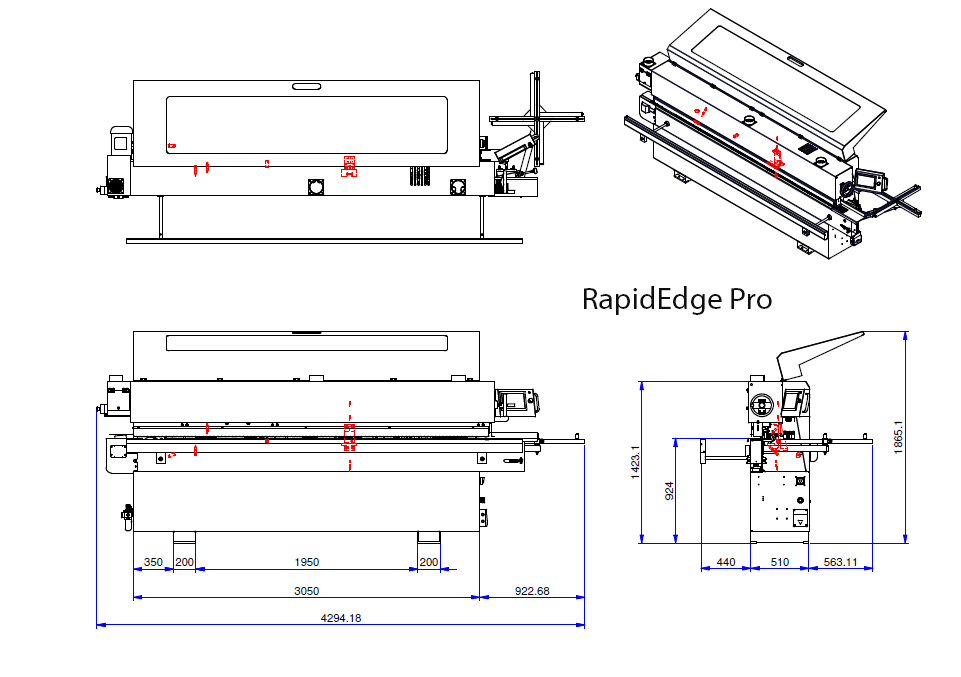 Features
---
Rapid change of edge thickness via touch screen
Nesting rollers function
Release agent spray
Pre-milling radius trim unit
Pre heat fence
Top bottom trim
Radius scraping
Flat scraping
Cleaning agent spray
Buffing unit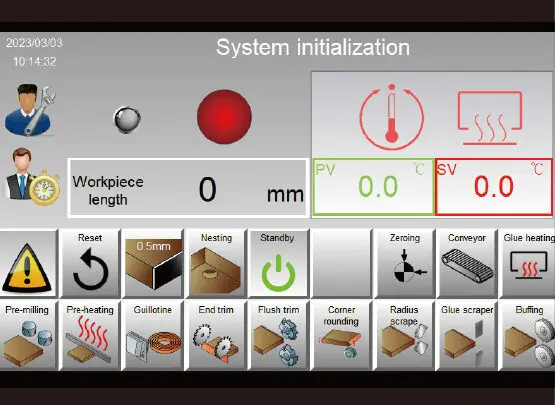 Touch Screen
---
HMI control system reduces manual settings to a minimum and enables a quick, easy and intuitive selection and control of the aggregate as well as the complete monitoring of all machine functions from the screen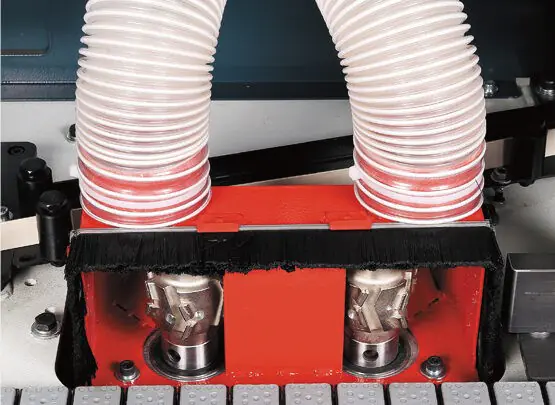 Pre-Milling Unit
---
Two counter rotating activation controlled and individually adjustable units with spiral cutters that ensure first class edge processing before the workpiece is glued to the edge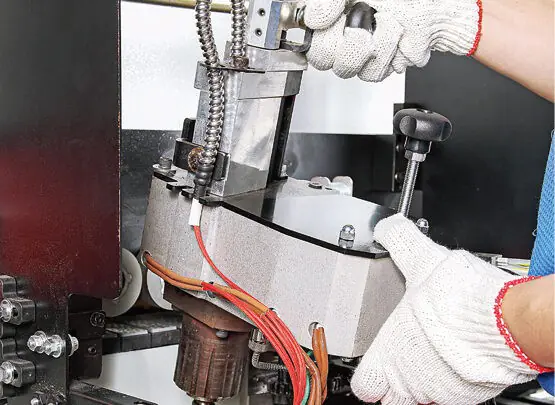 Quick change glue pot
---
The Teflon coating glue pot has 1.2 kgs capacity, short warm-up time is quick operational readiness. The quickly change system of the glue pot guarantees shortest cleaning and changeover time when changing glue.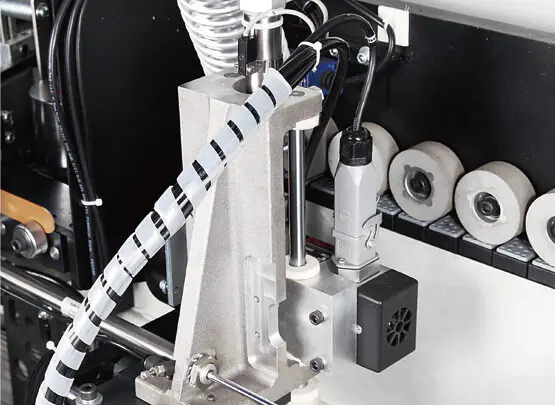 End cutting unit
---
Two blades with fence plate against workpiece to cut excessive edge on the front and rear sides.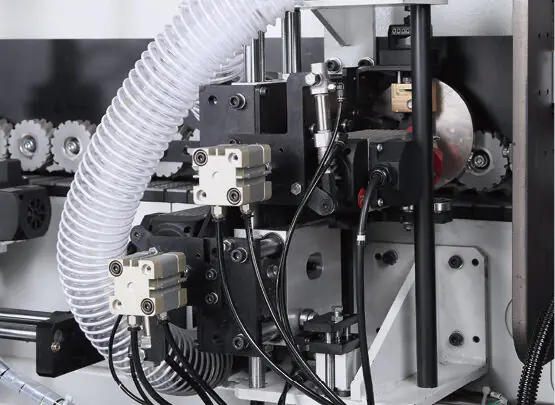 Flush trimming
---
Two counter rotating activation controlled and individually adjustable units with replaceable knifes that cutting excessive on the top and bottom sides.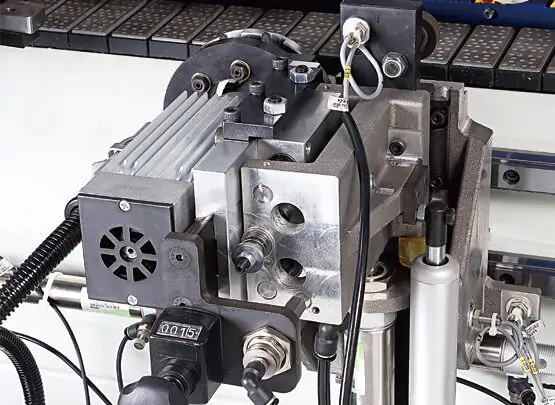 Corner rounding
---
The corner rounding unit is controlled from the control panel, naturally with the option of choosing which corners need to be rounded.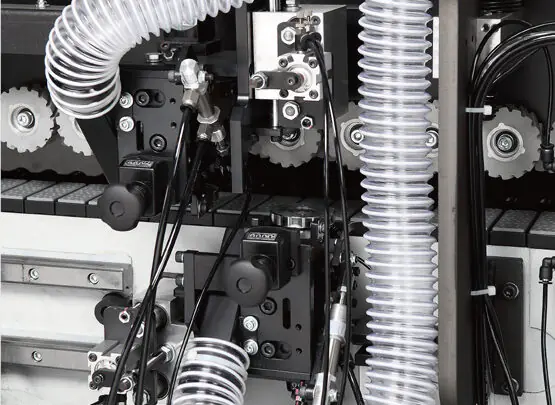 Radius scraping
---
The radius surface receives a light scraping, removing any remaining from the trimming process and ensuring a smooth finish. The fine adjustment is manual.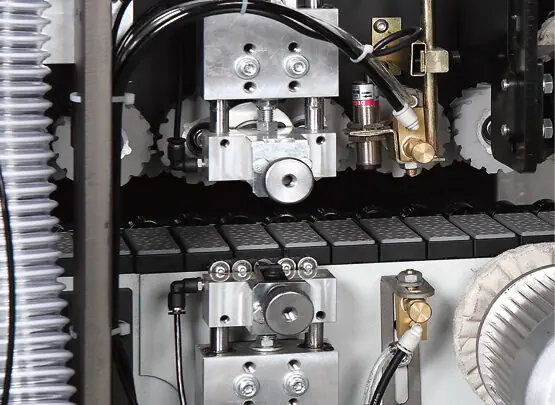 Flat scraping unit
---
Slightly remove residual glue on the workpiece caused by squeeze-out.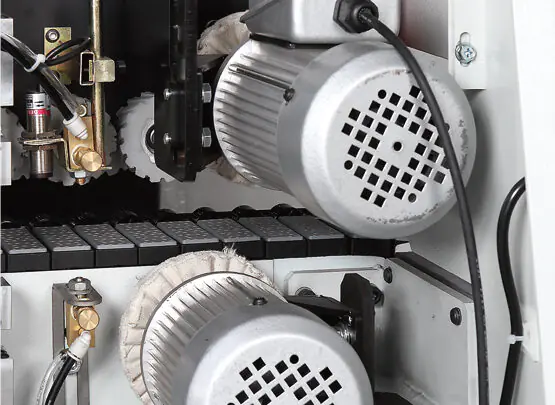 Buffing unit
---
The unit is made up of two independent electric motors, which are equipped with cotton brushes.
The task of the buffing unit is to clean and polish the top and bottom part of the edge.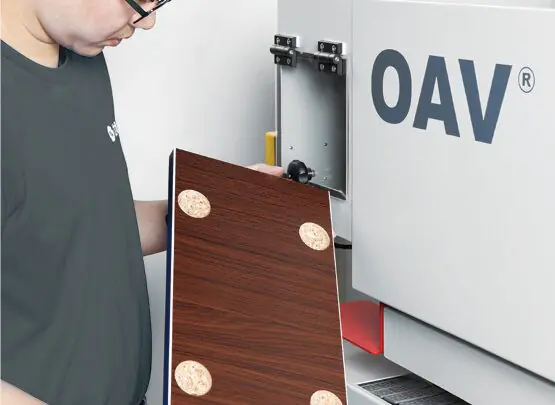 Nesting function
---
Nesting kits is good for the workpieces will be already drilled before edge processing.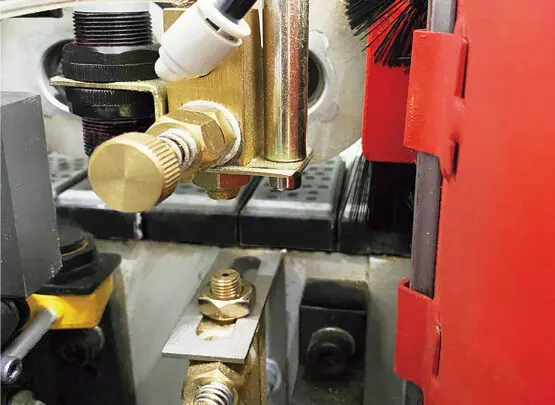 Release agent spray (optional)
---
Applying release agent from the top and bottom to prevent leaked adhesive residual glue sticking on the workpiece.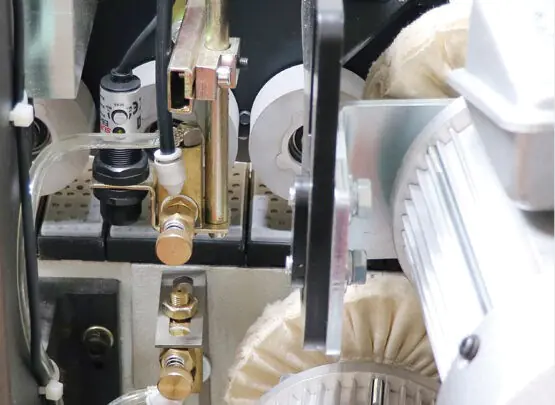 Cleaning spray unit (optional)
---
Cleaning agent system sprays solvent firm top and bottom of workpieces. Cleaning agent is installed in front of buffing unit and is loose adhesive residue on the panel.
Browse OAV Edgebanders
---
We have been working with OAV for over 5 years. We're extremely impressed by the build quality of their woodworking machinery. We stock OAV Edgebanders and Bandsaws. Our OAV Edgebander range consists of:
OAV 330 Hot Melt Edgebander
OAV 350M Pre Milling EdgeBander
OAV 350A Pre Milling EdgeBander
OAV 370M Corner Rounding EdgeBander
OAV 370P Automatic EdgeBander
OAV 370P Automatic Corner Rounding EdgeBander
OAV 570P EdgeBander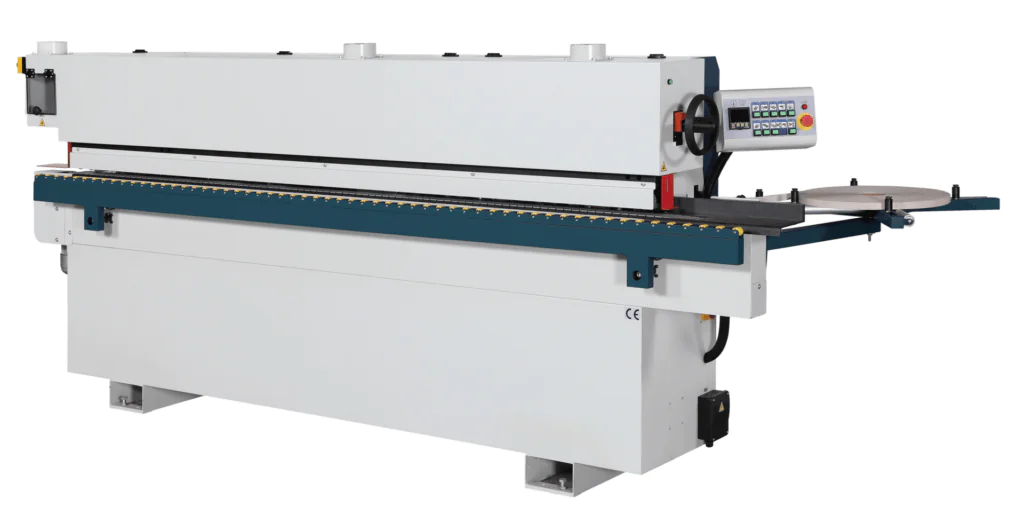 Need assistance or Expert Advice?
We pride ourselves in offering a friendly and professional service