Technical Specifications
Cutting length (mm)
4300 / 5300 / 6300 | 2200
Trimming height (mm)
2110
Saw blade diameter (mm)
303
Air requirement (m3/h)
1400
Attachment connection diameter
120 mm
Connection dia., frame end (TRK version)
100 mm
Vertical panel saw SECTOR 1257: Vertical precision in harmony with perfect ergonomics
---
The SECTOR 1257 is available in highly varying frame versions with cutting lengths of 4,300 mm  to 6,300 mm and cutting height of 2,200 mm. The cutting depth is 80 mm. Special lengths up to 8,300 mm are available on request.
The range of applications for Holzher circular panel saws can be extended as required with genuine accessories. For example, with the Holzher patented Super Cut pre-scoring system. This system operates with two scoring blades to score laminated panels ensuring tear-free edge quality. A further optional feature is the professional cut optimisation software Opti-Base V-Cut.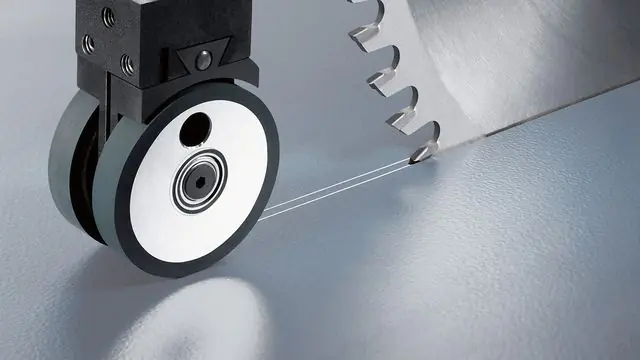 SuperCut
---
The patented SuperCut pre-scoring system uses tried and true pre-scoring blades for tear-free cuts. SuperCut can be retrofitted at any time on all SECTOR panel saws.
Two carbide blades score the surface of coated panels exactly to the width of the saw blade.
The circular saw blade then cuts the panel without chipping the hard, brittle or fibrous top layer.
The result is a smooth edge for further processing.
SuperCut can be adjusted easily on a dimension scale.
SuperCut can be retrofitted at any time on all SECTOR panel saws.
Longitudinal stop with scale
---
Longitudinal stop with setting display above scale for vertical cut. Guided by hardened linear guide.
Strip Stop
---
The strip stop ensures a uniform cut to the width of the workpiece. Once set – every cut is the same.
Digital longitudinal stop
---
Digital dimension display for vertical cut, including fine adjustment of hardened linear guide.
Sawing Unit
---
The advanced sawing unit with powerful 5.5 kW motor cuts materials with a thickness of up to 80 mm effortlessly. For harder materials, an optional 9 kW motor is also available featuring integrated speed regulation, even for synthetics and nonferrous materials.
To ensure operator-friendly tool changes, the attachment can be mounted in any desired position on the sawing beam. The ProLock quick clamp chuck guarantees quick tool changes.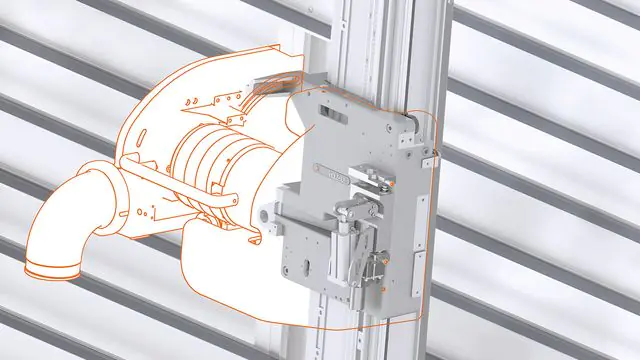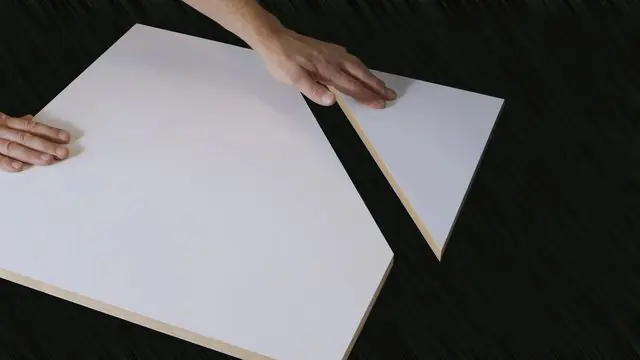 GeoMetric Angle Cutting
---
The mobile angular cutting device allows angular cuts up to 45° to be completed easily.
For this purpose simply clamp the angular cutting device to the saw and set the angle in degrees.
Two adjustable vacuum units hold the panel in place. Then cutting can be accomplished in the vertical or horizontal direction. A simple conversion feature allows the angular cutting unit to be attached on the left or right side of the cut.
In house production
---
Up to 2200 tons of steel and aluminium are used in Holzher's own frame construction. A laser cutting unit with fully automatic charging optimises cutting steel plates with thicknesses up to 25 mm. This ensures that Holzher can use the ideal material thickness for all construction parts where rigidity is relevant.
With a nominal pressing force of 400 tons, multiple hydraulic trimming presses ensure perfect component shape with automatic material thickness measurement and pressure control.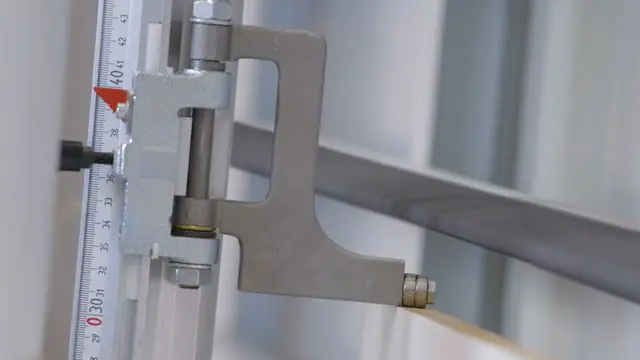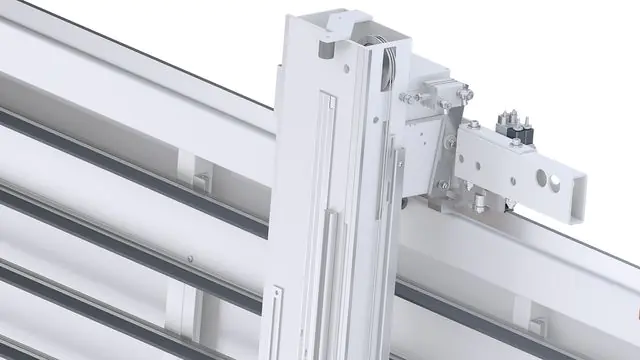 Welded Frames
---
The individual parts are welded together very carefully. Optimally designed welding equipment ensures high quality consistency for your machine.
The completely welded frames are milled with high precision on a number of long-bed cutting machines. This ensures that all surfaces are optimally prepared for later attachment of guides and equipment.