Technical Specifications
Optional Cutting Lengths
4,300mm/5,300mm
Saw Blade Diameter (mm)
250mm
Connection dia., frame end (TRK version)
100 mm
Optional Cutting Heights
2,200mm (Only on 4300mm/5300mm option)
Trimming Height
1810mm/2110mm
Air Requirements
1400 m3/h
Attachment connection Diameter
120 mm
Connection dia., customer-side evacuation
Additional 160 mm
Holz-Her Sector 1254 Vertical Panel Saw
---
With the philosophy "from the craft for the craft", HOLZ-HER with over 60 years of experience in building vertical panel saws, develops the perfect machine for cutting panel shaped materials.
HOLZ-HER vertical panel saws are available in different sizes, which are always perfectly adapted to their requirements.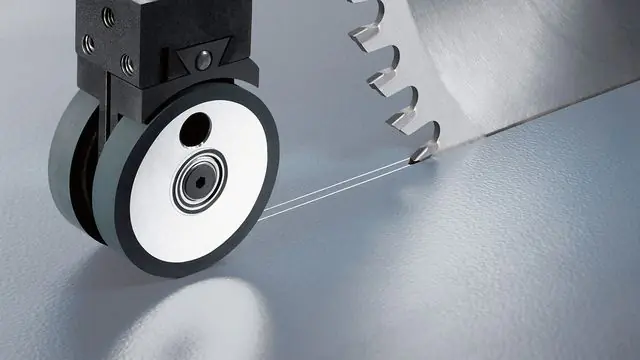 Pre-scoring for Precision Cuts
SuperCut is the patented HOLZ-HER pre-scoring system. It provides ready-to-glue cuts with just one basic adjustment.
Two carbide blades score the surface of coated panels exactly to the width of the saw blade.
The circular saw blade then cuts the panel without chipping the hard, brittle or fibrous top layer.
SuperCut can be adjusted easily on a dimension scale.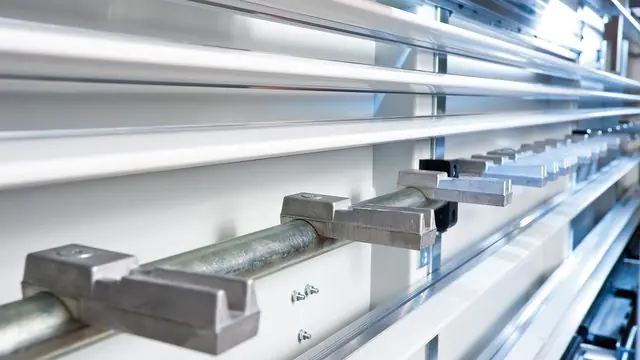 Continuous Centre Workpiece Support
The central workpiece support can quickly be folded out and placed at the optimal level for ergonomic machining.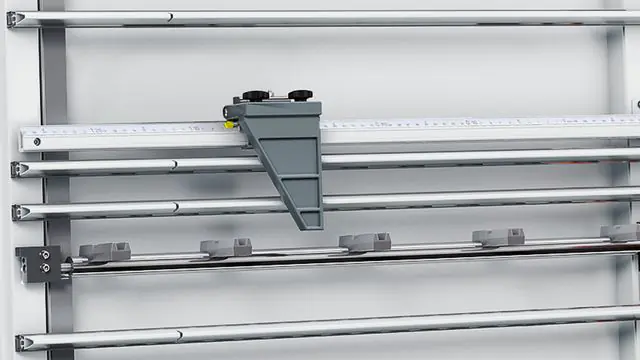 Longitudinal Stop
Manual or (optional) digital dimension display for setting length of vertical cut.
With extended stop plate as standard feature for narrow parts
Setting desired dimensions is easy and precise
Can easily be folded away when not required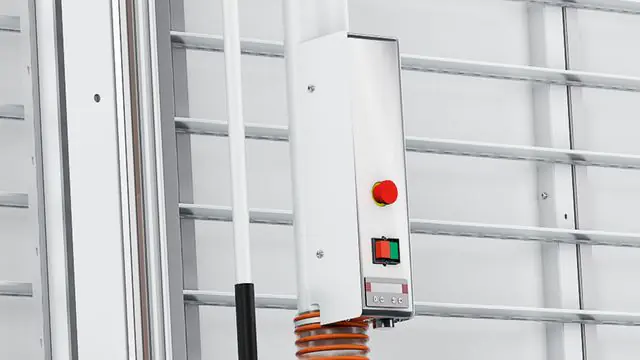 Control Panel
Functional control panel at eye height guarantees simple operation.
Digital Version
Digital dimension display for horizontal cutting (optional)
Precise dimensional adjustment even for top-most horizontal cuts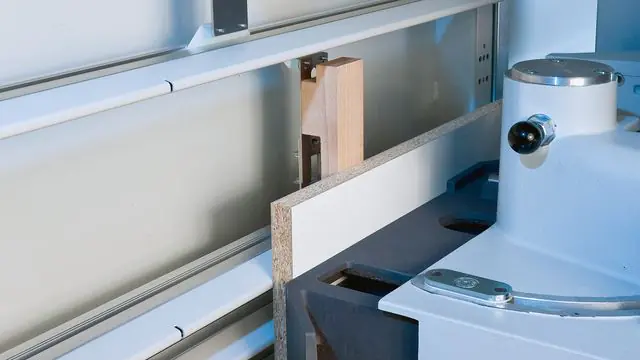 Support Grid
With optional narrow part fence to prevent workpieces from tipping away between the fences over the central workpiece support.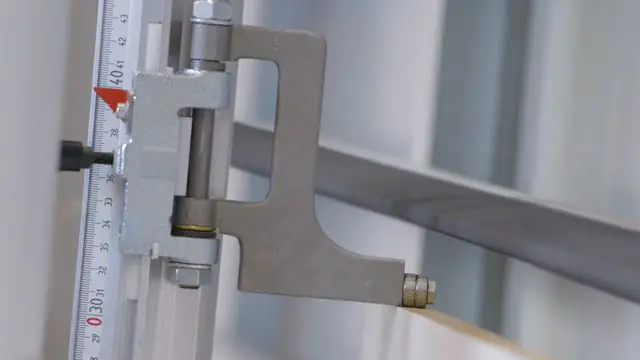 Strip Stop
For repetitive horizontal cutting dimensions. It is only necessary to set the desired dimension plus saw blade width once. All other cuts are made with the same repetition accuracy. (optional)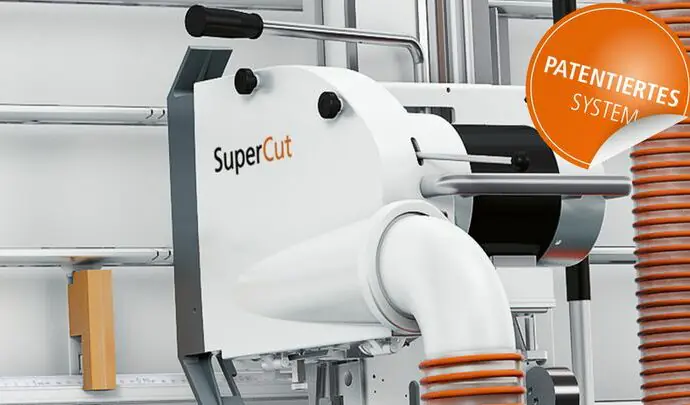 SuperCut Prescoring System
The patented SuperCut prescoring system uses tried and true prescoring blades for tear-free cuts. SuperCut can be retrofitted at any time on all SECTOR panel saws.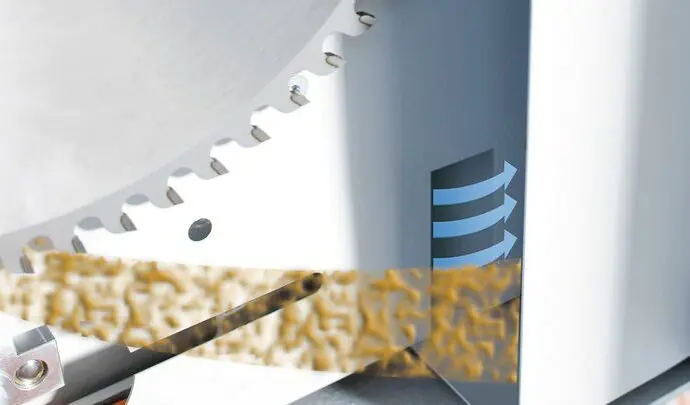 TRK Evacuation
Health and safety require workplaces to fulfill the highest requirements. Air pollution is an important factor. For this reason, the SECTOR series can be equipped with an effective optional evacuation system thus keeping it significantly below the prescribed guide value of 2 mg of fine dust per m³ of air.
TRK = Technical Guideline Concentration
(Mandatory in all CE countries)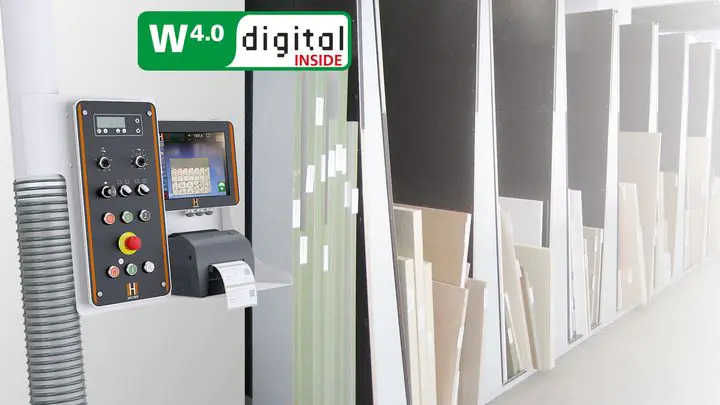 Cut optimization – step-by-step instructions for effective panel cutting
With the professional OptiBase V-Cut cutting optimization feature from HOLZ-HER you
always get the best optimization results for perfect material utilization. Clearly arranged user
surface and 10″ touch screen for simple, quick operation and management of orders, material and parts lists. The label printer for HOLZ-HER machines included in the package ensures
clear identification of all parts.
Optimization software for vertical panel cutting saws makes it easy to optimize your cutting plans.
Waste material is reduced highly while labeling ensures professional management.
The choice is yours – you can either import the cutting plans created in your office via network connection/USB or enter them directly on the touch screen.
Perfect material utilization and maximum yield thanks to intelligent software.