Technical Specifications
VOLTAGE / PHASE
415V / 3ph
CUTTING HEIGHT MAX
270×120 / 300x95mm
CUTTING SECTION MIN
30x12mm
LENGTH OF BOARDS BEFORE CUTTING
min 500. max 4100
IN-Feed Push System
In-feed push system, controlled directly by an innovative system with numeric control computer and servo drive connected in digital mode by Ethercat.
Special 25 inclined plane to help the loading and keep the work piece squared without increasing the working height.
Very robust, reinforced and painted, steel structure.
Special closing protection on backside to have working safety.
Speed of the pusher is 60mt/min according to current safety regulations: Maximum speed of carriage movement adjustable up to max. 60 m/min. in function of the cutting section. Possibility to have optional faster version.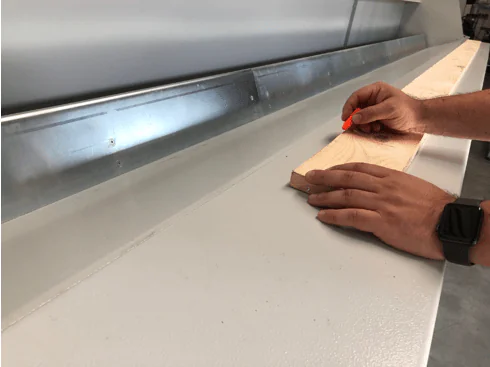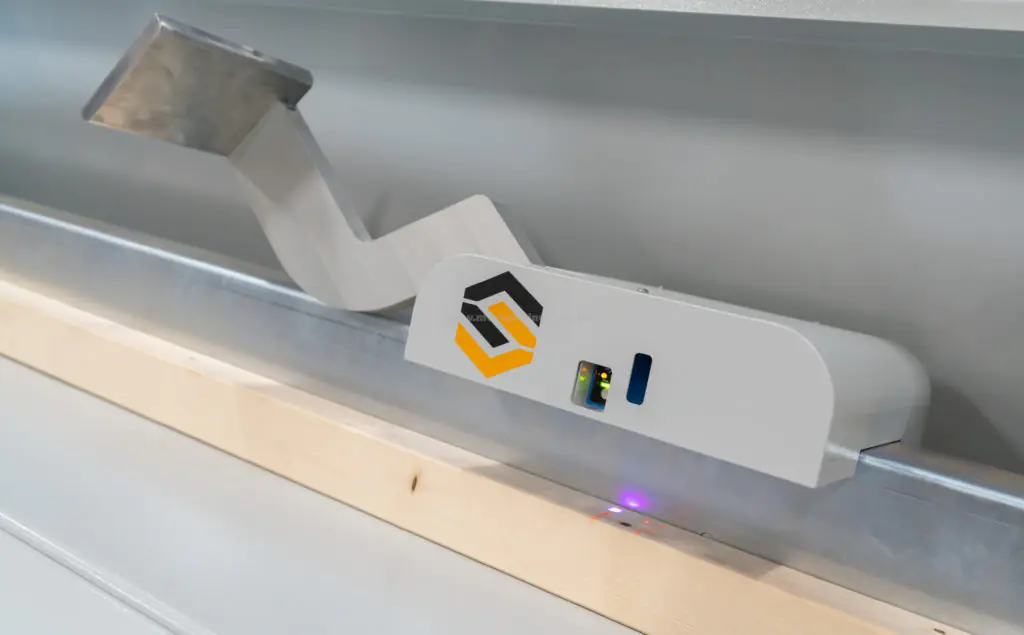 Very robust carriage of the pusher unit
Big and strong dimensions, 300x345x25mm.
The aluminum beam is big and solid: 135mm Height and 120mm width fixed in a structure in steel shared in 2 parts to have more solidity and long reliability. All the beam is covered and protected by a special no-consumption steel.
Special system with toothed belt width 50mm. 33 strips of hard steel inside of high precision and capacity, system sliding on double hardened and rectified guides. This system helps to avoid suffering dust and service problems, with a very long life and reliability.
Servo driver electronic moving motor of constant power type Brushless with digital Ethercat connection, max precision and reducing of electric noise power problems.
Cutting Group
Structure in hard steel: high thickness and really strong.
The Cutting group has a 25° inclined plane as the feeding area.
Power motor blade HP=7,5 (5,5 kW).
The cutting time is adjustable from 0,1 to 1 sec. directly by the computer.
Regulation of the speed can be done by pneumatic system.
All the cutting blade area is machined and indipendent to have a high quality plane
Aluminium blade inserts.
Smart pressure beam that is adapting after the first cut to the thickness of the boards.
Circular blade in HM, diameter mm. 500.
Two electro-pneumatic side alignment devices inside the machine unit, before and after the blade.  The first side pusher works horizontally to maintain the  piece on the guide and on the pusher plate. The second one after the blade works vertically and allows to maintain the precision of the lengths especially for the last cut pieces on the board.
Illumination of the cabin by led lamps.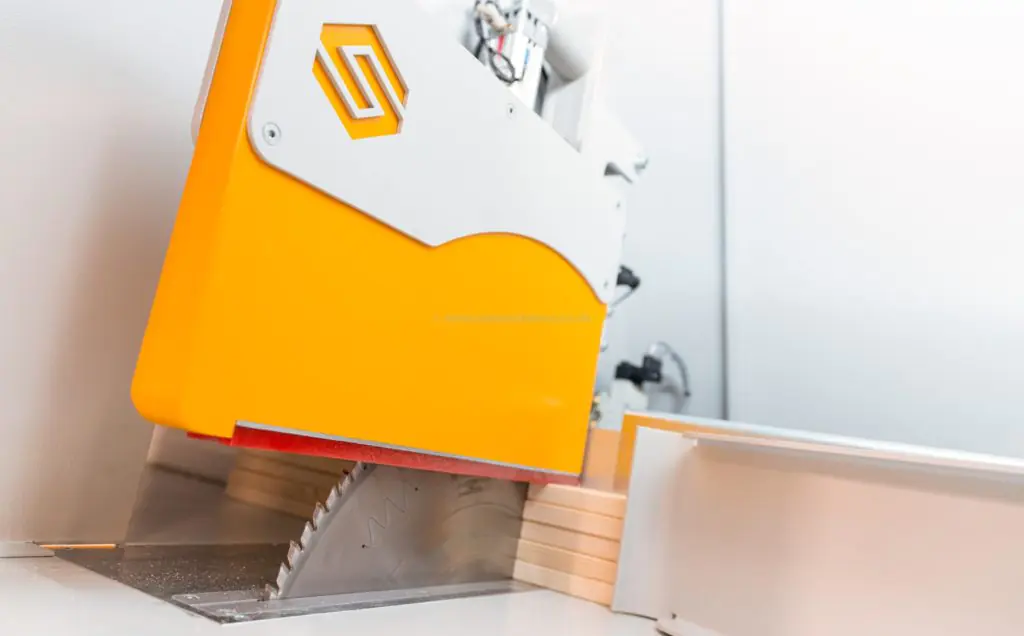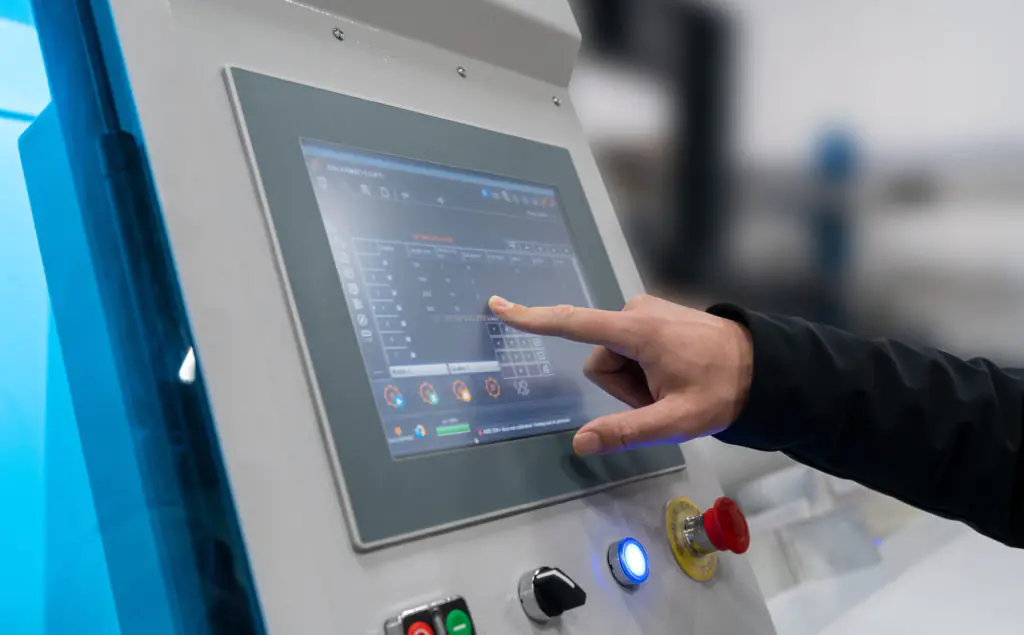 Operational electronic Management System S-OPTIM
The electronic management system consists of a numerical control and integrated computer of the latest generation to encourage the speed of communication up to less than one millisecond.
S-OPTIM Software the ease of use and graphics reflect the main systems of smart electronics.
Sections of the program dedicated to statistics and cutting results, with updates in real time, diagnostics and video messages.
Complete management up to 5 cutting qualities.
Touch screen of high resistance to 12″, positioned to facilitate the reading and the Digitation of the data.
USB connections.
Tele-service Software via the Internet included and ready to use.
Connection with brushless motors and their digital drives to ensure maximum accuracy, speed, responsiveness and reliability.
Electrical panel protected from vibrations
Optional Extras
Rolling bed tables
6.1m Roller Bed +£1,900.00
5.1m Roller Bed +£1,400.00
2.1m Roller Bed -£1,900.00
Extension of out-feed collecting plane
Per each meter in addition to the standard 3 meters (max 6 meters)  +£180
Gravity Pre-loading System
To load using the 25° inclination. Minimum width mm 35, max mm. 150, not useful with not straight planks and with difference between the in-feed boards length bigger than 33%. The plate of the pusher will be installed starting from width of mm 30. Not applicable with Fast version and with packet cutting.
Out-feed length selector 6000/3 unit
Out-feed length selector 6/3 unit.
Division of the cut pieces for measure/quality/recovering/waste.
Piece length to be expelled from min. mm.150 to max. mm. 4000 (on request other sizes). The not useful waste goes to the end of the conveyor.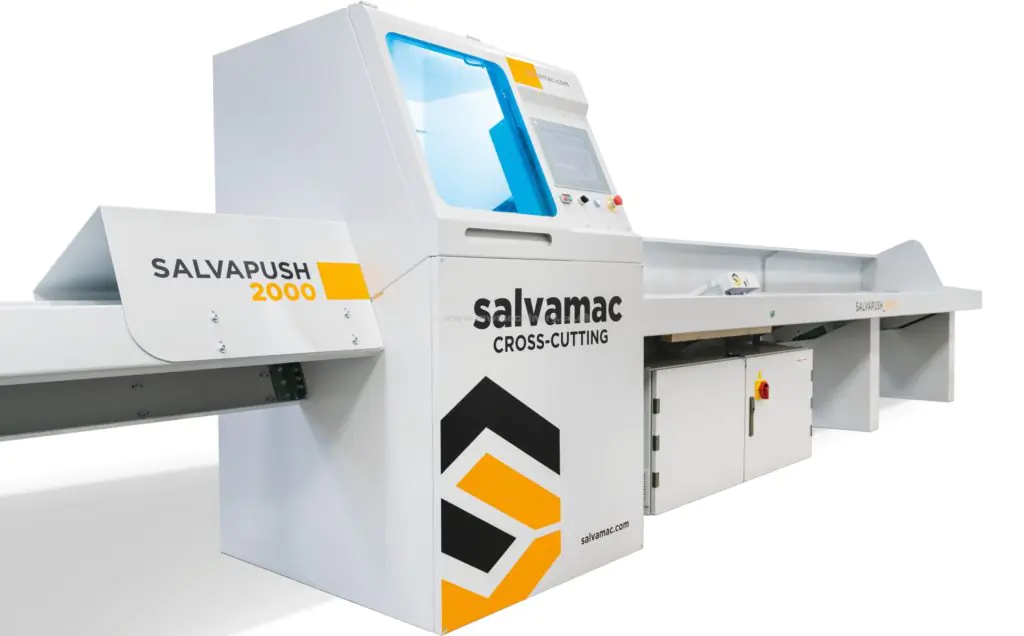 The belt is driven centrally by a trapezoidal guide. NR. 3 high speed ejectors
Additional Price £9,950.00
Ejector Per each one £1,090.00
2.75 MT for length selector to add to the base length of the length selector.
Per each one: £2,490.00
Out Feed table with rotation: inclined with double axis for  rotation and unloading of the entire cut board in a cycle while the pusher moves back without loss of time.
Version 4000: £4,790.00
Version 6000: £5,790.00
Trap door for Table with length 200mm to the elimination of the head and tail of the cut boards.
Label Printer £1,200.00
Second output monitor £900.00